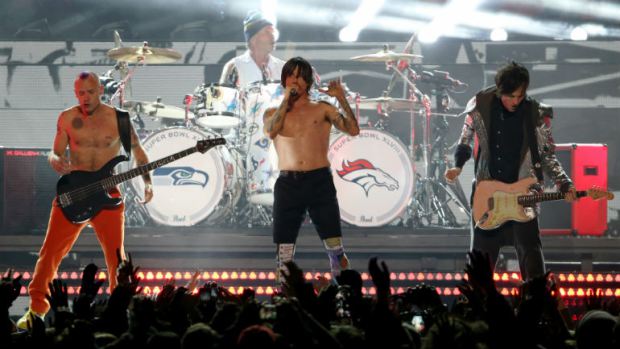 By Radio.com
Soon after Bruno Mars and special guests the Red Hot Chili Peppers rocked last weekend's Super Bowl XLVIII halftime show with a impressive medley of songs, images began circulating the internet highlighting the fact that RHCP bassist Flea and guitarist Josh Klinghoffer were performing with their guitars not plugged in to a darn thing.
Photos and GIFs highlighting the Peppers guitarists' lack of plugs generated a firestorm of criticism directed at the Red Hot Chili Peppers
. Many fans felt betrayed by the band for not performing live at the high-profile event, which generated America's largest TV audience of all-time with 11.5 million tuning in for the game between the Seattle Seahawks and Denver Broncos.
Given the enormity of the event, and the logistical nightmare of doing live sound in the center of an open-air stadium for a 15-minute performance, utilizing some backing tracks is a common occurrence, although many artists would make an attempt to appear live with dummy cords for their instruments. There is also the issue of the detrimental effects the cold weather can have on guitar and bass strings, particularly in regards to tuning.
It's been suggested that Flea so openly flaunting an empty plug was his way of revealing the prerecorded aspect of the halftime performance, a sentiment supported by Flea himself, according to a recent tweet:
Major artists miming to tracks for televised performances is, of course, nothing new at this point. Last summer, British dance act Disclosure was forced to address a prerecorded show at Wembley Arena as part of the Capital FM Summertime Ball.
Long-running British music TV show Top of the Pops has required that acts mime to a prerecorded track, a policy that resulted in Nirvana's Kurt Cobain agreeing on the stipulation that he could at least provide live vocals, resulting in this bizarre rendition of "Smells Like Teen Spirit."
Red Hot Chili Peppers have been a band for over 30 years now, have earned all of the stripes there are to earn as a live band, and were chosen to perform one of the most watched TV events
of the year. It's time we cut them some slack for logistics sake of setting up and taking down a rock band for a four-minute performance of "Give It Away."
And anyway, we all know the bass line to that song like the back of our hand.