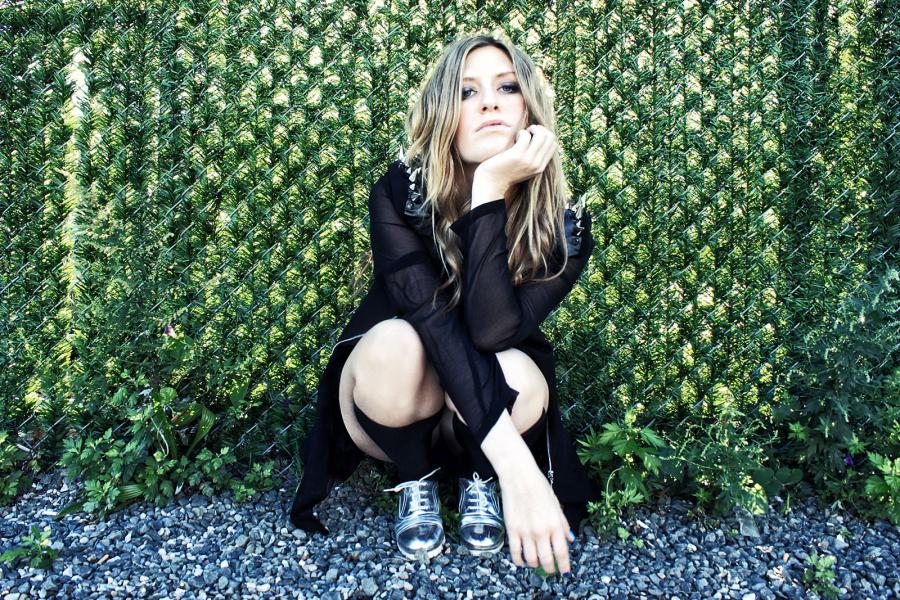 "Your craziest dreams can come true, so don't listen to any negative voices," says pop singer-songwriter Ashley Allen. And she should know. As a teen, songwriting was a private, emotionally cathartic activity, like diary writing, and, for years, Ashley's boldly original musical spirit was locked deeply within. Now she's setting that spirit free. Her new EP "Body Say No, Heart Say Yes" was just released and the title track will be going to radio in January of 2014.
"I had to grow up and get to know myself," the New York native says. "The biggest bully that I encountered was me. Nothing in your life gets better until you get better."
"Body Say No, Heart Say Yes" was so immediately infectious, in fact, that shortly after the track landed on the desk of Robot of the Century Music, which is run by music industry veterans from Roadrunner Records, she was signed to a development deal. Even though Ashley grew up around the music industry (her mom was a singer and her dad co-owns Universal Attractions Agency; his client, James Brown, used to call her his "little princess!"), her career path was not paved by her father's connections. Nor was her path to music made any easier by the fact that she is a member of the prestigious Tisch family. She did this on her own, including insisting on bucking the trend of pop acts not writing their own music. Instead, Ashley, who's been singing and dancing as long as she could walk and talk, writes her own songs.
Ashley's vibrant artistry is a powerful mix of call-to-arms positive messages, blissful hooks, and uplifting dance floor anthems. The tastemakers of Brightest Young Things said: "Her ultra-catchy sound's got a broad appeal without being even remotely watered down, which (in today's go-sub-genre-or-go-home world) is a total breath of fresh air, and definitely merits a listen." Ashley pulls from buoyant pop, moody and mesmerizing EDM, haunting dubstep, and the anthemic sincerity of modern country. She's garnered favorable comparisons to Katy Perry, Kelly Clarkson, Mika, Demi Lovato, and Lily Allen. Ashley has been featured in the Huffington Post, NY1, Charged FM, Joonbug and NKD Magazine. As a live performer, she's built a robust profile with dazzling performances at legendary NYC venues such as Highline Ballroom, Bowery Electric, and Rockwood Music Hall. She's also undertaken a successful Australian tour. "Being in Australia was one of the most surreal experiences I ever had. It was a moment of truth that solidified my dreams. It made me love creating and sharing my music even more," she enthuses. Recently, she wowed WNBA audience members at a game during a stunning halftime performance.
Ashley's songwriting is unflinchingly optimistic, fizzing with life affirming self-reflections, sugary sass, sharp pop hooks, and undeniable beats. On "Body Say No, Heart Say Yes" she's triumphant over bedridden depression and exhaustion. "I want to clarify that song is not about a guy! It's about not being able to get out of bed after a late night," she says laughing good-naturedly. "Being a college girl, I can't tell you how many times it would have been easier to stay in bed. But everyday you keep on keeping on and live life to the fullest."
Ashley collaborated with producer/songwriter team CashCash (All Time Low, Cobra Starship) on her current tracks. Her creative process is assured and organic, with her bringing in original ideas to co-writing sessions or writing from scratch in the studio. "It's always exciting and surprising to see what you come out of the studio with," she says. For the CashCash sessions everyone would get in a room with an acoustic guitar and build from there. It's been a transformative working relationship for Ashley. "I learned so much from the guys," she says. Ashley is currently pursuing writing opportunities with some of pop's biggest names.
Moving ahead she says: "I hope to get an album out the beginning of next year. I want to continue to write songs that can touch people and keep them listening. And, ultimately, my goal is to continue to grow as a person and as an artist and share my experiences with people and let people know that they're not alone."