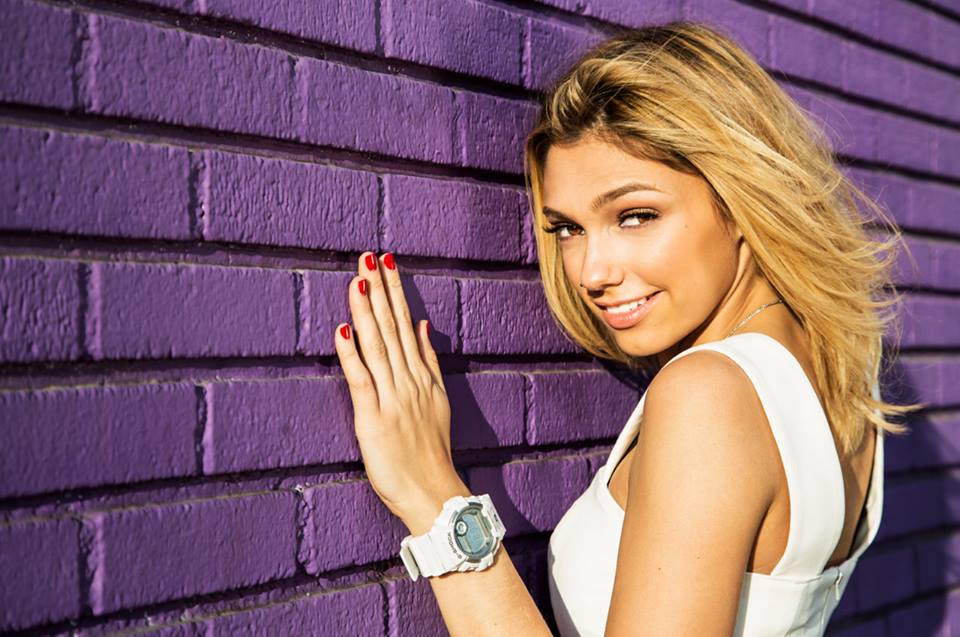 Buzz Track: Supersonic featuring Sean Kingston
Swiss pop singer Vava Voom is an up-and-coming artist. She teamed up with Sean Kingston (Beautiful Girls, Fire Burnin', Beat It feat. Chris Brown) on her first single "Supersonic". The single was produced by The Aristocrats (The Underdogs, Rodney Jerkins, Exo-K) and written by Esjay Jones (Akon, Rihanna, Shakira) and Pia Toscano (American Idol season 10). Vava Voom is currently at work on her debut album, which will be released later this year. "Supersonic" is her first single release in the United States.
Contact: jason.jumpmedia@gmail.com, info@persona-pr.com
How was the transition from Switzerland to America? Do you travel back & forth?
It's really different. It's a slightly difficult change, although I welcome that change. In Switzerland everything is safe and comfortable, and you don't get encouraged to pursue big accomplishments in music or entertainment. In America, it's all about how everything is possible. You can reach your wildest dreams and win big. This also means that, unfortunately, you can lose big too, but it makes you fight to chase those dreams even more.
I travel back and forth a lot. I do most of my major songwriting and recording in the US along with most of my photo shoots and press. But I do a lot of shows in Switzerland also, so I have to be back and forth right now.
When did you start singing?
I started singing when I was a little girl. My family is really musically gifted. All of my three brothers went to a boys choir, and I obviously couldn't join them, so I went to the Zürich opera children's choir. There, I learned how to sing and perform on stage. Over the next few years I sang in a gospel choir, played violin and piano, and rocked out with the coolest school band ever, but in reality we sucked, haha. Once, I sang with Celine Dion in front of 44,000 people. That was one of the most amazing experiences and actually the moment when I really wanted to become an artist.
Did you take vocal lessons?
In the children's choir we had lessons in groups, but never individually. Today I sing so much at shows that lessons become hard to fit it in. I would love to have a dedicated vocal instructor because I believe it would help expand what I'm able to do already. Everybody can afford a little extra practice!
When did you begin performing live?
I started in second primary school, in the US they call it elementary school. So I guess I was around 8. We played little parts in the opera and got $20 per show. But hey, back then that was good money :-) I spent it all at the kiosk and H&M. What a rockstar :-)
Who would you cite as influences?
I have a lot of influences. I get influenced by everything I listen to no matter what genre of music it is. But I would have to say that the major pop artists from the last decade have had a large impact. People like Gwen Stefani, Katy Perry, Pink …. Just to name a few.
How did you hook up with your production team and a Sean Kingston feature?
My manager played some tracks for me from the production duo "The Aristocrats." He's known their manager for a while and we loved their music. The song "Supersonic" seemed to fit me so well so we reached out and cut the song. It was so much fun to record and to put the Vava Voom stamp on. As far as the feature, I felt like Sean Kinston would be good because he has a great pop appeal, while bringing an urban touch as well. So my manager let Sean's manager and Sean Kingston, hear the song and I guess they really liked it! He did his verse and sent it right back. I love the job he did and I'm really grateful for him to even feel like he wanted get on it. Thanks Sean!
Do you want to sign with a major label?
I think I would like to be in the right situation even more than be signed to a major. A major label deal can be really good in some ways, but not in other ways. I just want to be able to reach the largest spectrum of people, but still be able to create the music that I want to create. If that can happen being with a label, great! If it can happen not being with a label, great as well!
Do you have upcoming tour plans?
Well I do plan to tour North America. I'm looking for the right booking agent, but I think as the attention grows, the opportunity to tour will grow as well. I'm looking forward to showing people a great show!
Have you heard of kings of A&R prior to our feature?
Yes my manager told me about them a while ago. I love the artist features that Kings of A&R present. They are really on the pulse of the next big thing. That's why I am so honored to be featured. Thank you!