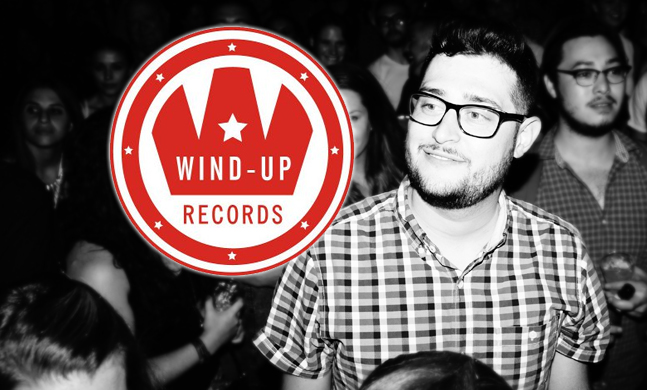 Wind-up Records has long been known as the house that Creed built. Although they are an independent label, they've been home to many chart toppers in the Active Rock and Alternative genres. Over the last few years, Wind-up has been branching out, picking up artists that seem out of place on a roster that once included Drowning Pool and Evanescence. Kings of A&R caught up with Wind-Up A&R director, Shawn Cohen, to find out more about their new eclectic roster that includes bands such as The Griswolds and SPEAK and how they are transitioning into new genres.
Wind-up has been picking up some surprising new bands. Where is all that coming from?
We have been known as the house of active rock for a very long time and we're trying to be creative and showing the world that we can do mainstream, alternative, pop…we're not just rock. We want to work with music that we love, no matter the genre.
What's your favorite artist that you're working right now?
Hands down, The Griswolds. Not just because I signed them, but they are just from fans to music the most intriguing, fun, exciting people and it shows all around. Their social media, their recorded music, their live shows, they are a very dynamic band.
How'd you find them?
I found The Griswolds in the blog scene. They had posted their first song , Heart of the Lion. It was under the radar when I heard the song and I was really into them. I did some homework and saw they were doing well on Triple J (Australian Radio). I listened to their other songs and I thought it was very creative and refreshing so I reached out to them.
So when you called them were they on board immediately, or did it take some convincing?
It always takes some convincing. When that conversation starts, it's always, "Who is this record label and what do they want with us?" especially coming from overseas. We had to let them know who we are and what we're about and why we are excited about their music. When we all started talking, that's when we knew this was going to be a great partnership.
Do you think it's difficult for a label like Wind-up to expand into different genres? You have a lot of credibility as a label, so how has it been received so far?
When the decision was made and we decided we don't want to pigeonhole into a genre, we were all gung ho and ready to go! Everyone at the label was on board. We knew we needed to evolve. I want something fresh and exciting. It was one of those 'if you build it they will come things' where we had success early on with Creed, Evanescence, Seether, Finger 11 and Drowning Pool. We built a great home for those bands and I think we are still a great home for bands. We need a fresh new take on the staff and the roster, but the mission statement hasn't changed.
For us, it was an easy thing to ignore genres and just seek out exciting music. But from an artist perspective it was… interesting. Reaching out to these quirky alternative bands, they're like. "Well hold on a minute, you're interested in my electric dream pop band but you guys are the label that signed Creed. That doesn't make any sense."
I understand that perspective, but Creed sold 30+ million records just in the US alone! We have seen success and we know the recipe is different for each artist, but we know the ingredients very well. Bands like The Griswolds and Strange Talk, who came on board early, they saw we weren't JUST an active rock label. We had an artist like Civil Twilight, so we were already starting the transition before even I came on board. I think now more than ever, artists and the industry alike are looking at Wind-up as a label that can play just as hard in any genre as any other label.
So, beyond the obvious 'great music' what are you looking to add to the Wind-up roster?
Great music and passionate artists are always first, but from an A&R perspective, we look at the whole picture. You can't just record and tour. Artists have to realize that their social media presence is their whole business. They have to proactively engage on their own, they cannot expect a label to do that for them. So from our perspective, we look for how artists interact with their fans in these ways and how they are marketing themselves. They have a unique opportunity to present themselves exactly as they want to be presented and appeal to their fans from this perspective, so we certainly have to take that into consideration. How an artist wants to be seen by their fans and how they choose to interact with them is a big part of who they are and can really influence where they are going.
Would you ever sign someone who isn't interested in putting out albums?
Oh totally! I think we're in an interesting space right now in how the market consumes music. As an indie label, we have the ability to be very flexible with the sort of deals we provide. We want to fit what we're trying to do and what the artist is trying to do, so if that means just putting out singles, we're for it. if that means albums, that's good, too. It takes a lot of singles before a fan will commit to buying a record, so we're open to the idea.
Why do you think you are uniquely suited to help Wind-up with this transition?
I didn't come up in the major system. I started in the industry doing marketing at RCA/Jive and in typical major fashion there were major rounds of layoffs every year and I was subjected to that and I got my foot in the door here at Wind-up. everything I learned and how I started doing things is from the perspective of 'if I were in a band, what would I want?' and not really applying conventional wisdom of corporate monsters. The job of an A&R is to tell a band, "this is what makes you awesome, I want to give you to the tools to make you better and help you do what you want to do."
Are you a musician?
I played saxophone in school, which led to piano and then guitar and then chorus. Growing up, I always had a few bands just to hang out with friends and jam, but when I realized I wasn't that great, my passion definitely moved toward helping others!
So is this a totally altruistic thing or is there a bit of trying to live vicariously through them?
Ha! There is definitely a bit of that vicariousness! It's always great when you get that phone call and it's their first sell out show and you can't help but share in that excitement and that joy of seeing yourself break. When it hits and connects, there's nothing more gratifying! Not just because it's a positive thing for you as an A&R or as a label who connected the right thing in the right place at the right time, but, oh man, these guys and girls have been working so hard giving it their blood their love their sweat and tears, THEY are seeing it pay off now. That's amazing to be a part of!
You're sharing a lot of first experiences, too, right?
I have been working in A&R since about 2011, and I've been doing it full time for about a year. So, yeah, it's been really great to experience all of these things with artists I really believe in. It all goes back to having good relationships with your artists. That's what makes the joy and excitement so special.
So, this is one of my favorite things to talk about with A&Rs because I've been with Kings for such a long time…
I always read Kings of A&R! You guys kill it!
Well thanks! So when you've been trying to predict talent and success for so long, you end up with some regrets and missed opportunities. So, do you ever go back to an artist or a bit of music after some time has passed and think, 'What was I thinking?!'
Oh there's a few of those, for sure. Most often there were times I didn't recognize the hit! I will be genuinely surprised that something ended up being successful. Learning how to predict success takes some time.
I remember when Katy Perry was just getting some buzz going, Dean Cramer was sure she was going to be a huge hit, but I was like, "ehhhh…I don't see it. Sure she's quirky, but is that really talent?" I was so incredibly wrong.
Ha! I was an intern at A&M/Octone Records when Lady GaGa was first blowing up and I remember David Boxenbaum walking out of his office saying, "I SHOULD HAVE SIGNED HER!"
Everyone has that list of bands they *almost* signed.
But that makes it all the more satisfying when it works out, right?
Oh yes. When everything falls into place and everything starts picking up steam, there's no more list of things you got wrong or things you wish you would've done differently. There's only what comes next. And that's really where we are right now at Wind-up. It's all falling into place and we're picking up steam. We are totally focused on what comes next!