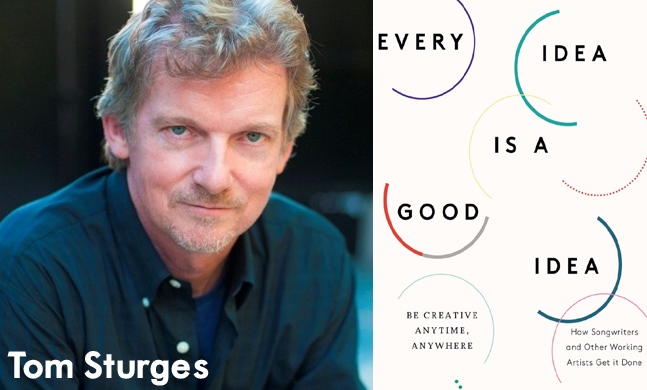 Renowned music industry executive Tom Sturges literally wrote the book on creativity. In his most recent work, Every Idea Is A Good Idea, he explores the two primary types of creativity- individual and collaborative. While the book is a must-read no matter what you do, filled with excellent advice and exercises to help anyone find their creative center and learn to access it more efficiently, many of us work with artists every day in a non-creative capacity. We followed up with him to find out a little more about how to have a successful relationship with truly creative people, and see what creative turns he has taken to end up where he is today.
In the book Every Idea Is A Good Idea you talk about how deeply personal the creative process is, and how it shouldn't really be discussed. When you said that a one-hit wonder will go on and on about how a song just came to them, I laughed out loud. We all know those guys. Can you give me a few questions one can ask to get a good read on whether or not a new artist is really tuned in to their creative center? Or is producing material the only way to really know?
True artistry is very genuine, and very truthful in its presentation. And you know the truth when you see, and more importantly, hear it. In a strange way, it's almost as if the performer doesn't really care if anyone is listening or not, as if he or she is so in tune with their own music and art that the presence of a witness is insignificant. Picasso could not tell you how he painted, but he could tell you how empty his life would be without his art.
So the questions to ask a new artist would relate to their inspirations, their artistry, their big dream, their favorite song that has ever been written (not their own, I hope), what they were like in high school, and that kind of thing. Come at them from the perspective of complete respect and see how they respond.
You have worked with a lot of very extremely creative people and in your book you share one particular story about an encounter you had early in your career with Carole King. You have picked up a lot of wisdom about creativity itself, but what can you share regarding what you've learned about working with creative people, from the business end of things?
Between an artist and the record, there are several intermediaries, including the producer, engineer, mastering engineer, mixer, a&r, etc. Between the songwriter and the song there is no one. When working with artists, the music is almost like a third person in the room, probably because it required so many others to successfully create it. When working with the writer and talking about the song, you might as well be talking about a family member.
The bottom line is that one must be completely respectful of a creator's art, and allow plenty of room for ego and dreams to co-exist with the vocal, instrumentation, the lyrics and melodies. But, before sharing an opinion with someone about their work, find out if it's the FINAL version, i.e., cannot be changed no matter what versus a DRAFT, i.e., still a work in progress. If it's the latter, feel free to say whatever you like. But if it's the former, pay a compliment relative to your view of the work and say no more.
What do you think it takes to have a successful working relationship with an extremely creative person when you're not really a collaborator?
If you are working with someone and you are not a collaborator, you need to pick the role you intend to play. Possibly you are the sounding board (listen to all ideas and offer comments and suggestions), the enabler/facilitator (organizer of studio time and finder of musicians, but with no "creative" role to play), or the fan (who loves everything, no matter what). The thing I find most creators need most is believers. So if you cannot be any of the three above, just believe.
What a few of your most memorable moments in the music industry?
Every day was a memorable moment of one kind or another. That was the great joy of earning my living doing exactly what I wanted to do…namely, listen to music! But here are some of the great moments that come to mind, in no particular order-
-Watching the Smashing Pumpkins play at the Whiskey BEFORE they broke and before I had closed the deal for their publishing rights, knowing that what I was seeing/hearing/feeling was epic and historical;
-Sitting in my office at Universal while Chick Corea played his great work "Spain" on my little upright piano, just me and David Renzer as the audience;
-Hanging out very late one night in London with Chris Wright, Tom Freston and Michael Kamen, partying like rock stars, pulling out guitars and pianos and playing 12 bar blues literally until dawn;
-As a brand new song-plugger I challenged Carole King to write a better bridge to one of her new songs – which she did [KOAR note: this story is in the book!]
How did you make the transition from music executive to public speaker?
As a music exec, you have to be able to speak to anyone at anytime about almost anything. You might go to a show and end up trapped in an elevator with the band's parents, or find yourself sitting next to a journalist on a long airplane flight. Public speaking is really no different from these experiences in that you have to be quick to the idea and prepared to discuss whatever comes up, being both interested and interesting in any and every topic.
Did you always imagine you would end up writing books?
I always dreamed I would end up writing books. The issue had always been deciding what should I write about. What do I know that would interest people other than me? What subject is interesting enough that it warrants years of thought and effort to discuss and dissect and write and re-write? What would I have to say that would be worth saying? Overcoming these doubts has allowed me to become an author.
Now that you have written the book on what you've learned about creativity, what do you plan to do next? Are there other topics you'd like to become an expert on?
I have written a semi-autobiographical memoir about men, for men, which examines the possibility of good divorce. It covers, in some detail, how I was able to break-up with yet stay very close friends with my ex, who lives about a block away and who calls me her "best girlfriend" (whatever that means). Beyond that, I am working on a book of my father's letters as well as a play based on the last night of his life. Also a children's book about a boy who figures out how to speak to dogs, and a book for teenagers about one amazing night when nerds became kings.
What do you think has been the key to your success?
I have been very fortunate to work in an industry I loved for my entire working life; other than that year in the taxicab, and even that wasn't so bad. And because of the passport my career provided me, I have met and mingled, bumped into and bumbled around with some of the most interesting people on the planet, including Sir George Martin, Hugh Hefner, Shaquille O'Neal, Gerry Goffin, President Obama, Bill Clinton, Jean Renoir, Shirley Temple Black, Diane Feinstein, James L. Brooks, Stephen Spielberg, Kareem Abdul Jabbar, Ritchie Sambora, Clive Davis, Carole King, and probably twenty more that I cannot recall just at this moment.
So the answer to your question is that I am a very lucky person, and appreciative, and respectful of everyone I have ever had the chance to meet.
Every Idea Is A Good Idea is available now in all major book retailers