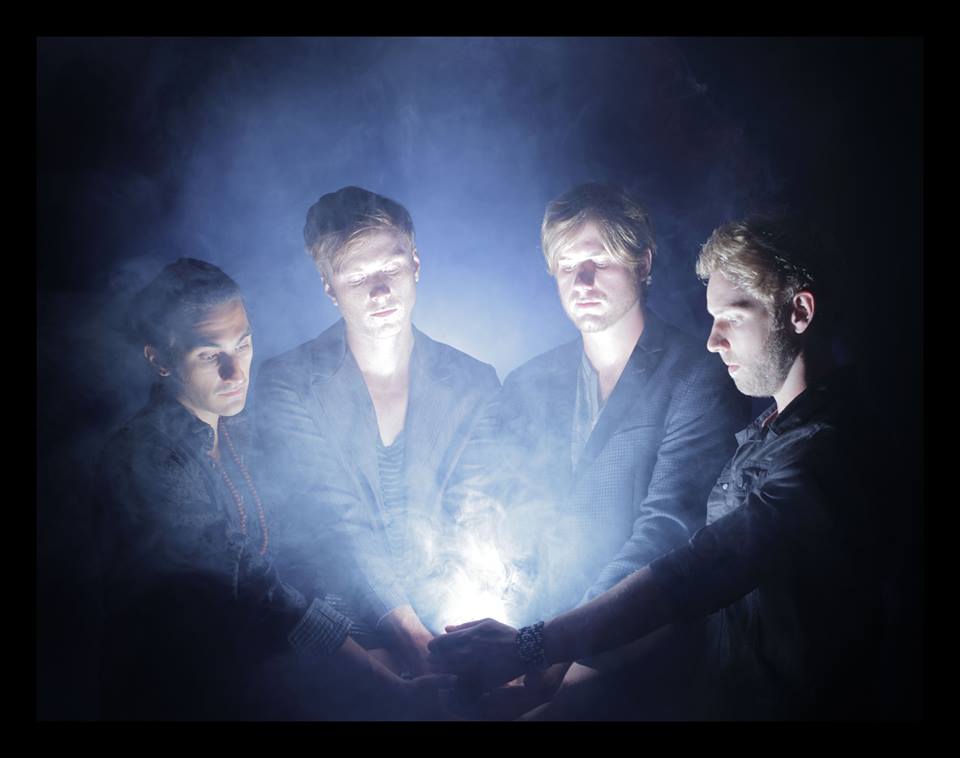 We recently had a chance to catch up with Step Rockets, a Kings favorite. We named Step Rockets a top 8 emerging artist as well as a "Year End Best Artist. Step Rockets burst onto the international music scene with their single Kisser, a self-released indie pop anthem that shot to #1 on the Hype Machine charts just weeks after its release.The Minneapolis foursome has built a reputation for their cosmic recycling of music past and present. The band seamlessly blends New Wave, Reggae, and EDM through the lens of a psychedelic rock band, churning out indie pop gems that keep the listener coming back for more.
You have had lots of underground success. What was the pivotal moment when the press started taking notice?
Thanks! The big turning point was when our song "Kisser" went to #1 on Hype Machine late in the summer of 2013. It was a totally organic moment and surreal experience. A few blogs picked it up, and people started to really connect and retweet the song. It was a fun seeing all of our hard work finally pay off.
Just 13 days after the release of "Kisser", the track hit #1 on Hype Machine garnering 200,000+ SoundCloud plays. Did that lead to major attention?
Yeah, things started happening quickly. A lot of people within the music industry reached out to the band immediately after the song hit #1. We had people from major labels contacting us, as well as agents, managers, and lawyers. We were completely DIY at the time, and I remember sitting in a coffee shop and sending out about 150 emails to music blogs to keep the hype going. After we had those initial numbers it was a great talking point for blogs and press to open up our e-mails and listen to our story. Since then we have toured the nation and been apart of some great festivals and have really found out what works for us.
Who would you cite as artist influences?
We all grew up learning to play our instruments by listening to classics like Smashing Pumpkins and Nirvana but we are really in love with newer stuff by Miike Snow, M83, Glass Animals, Twin Shadow and Drake to name a few. There is also this chill acoustic side of the band where we can really get into Father John Misty and Fleet Foxes.
How do you go about the songwriting process. Who comes up with the songs?
Josh Von Mink is the main songwriter in the group, but all members are integral to the process. We like to bring in demos of songs and work on each tune's arrangement, lyrics, melodies, and rhythms. We try to place each song under the umbrella of the idea of "Step Rockets" by adding consistencies throughout the music. It's an ever evolving process and leaves room for us to grow and change as we decide.
It seems you release singles & videos rather than EPs or albums. Do you find that to be a better strategy?

We love releasing singles, but we will be releasing an EP soon! It's hard to say if it's a "better strategy", but it has helped us develop relationships with fans, the press, and the industry. Those relationships have led us to the success we've seen so far.
As far as building a fan base what was your strategy? Do you find the live show and social media are equally effective?
Social media and live networks need to work in tandem. The challenge is making the electronic relationships real relationships. For us that means meeting as many people as we can in the flesh and working hard to maintain those relationships. We have fans all over the world, so social media is especially helpful in developing those international fans and connections.
Does each guy in the band have different responsibilities? Who deals with the day to day? Who spends time on social media?
We try to divvy up the responsibilities, but in the end we all do a little bit of everything. Josh does most of our social media, and Johnny does our light show and a lot of live show production. We are our own small business , so we've been learning on the fly when it comes to our accounting, merch, booking, meetings, PR, and all of the other things that go into Step Rockets.
You've played lots of shows. What artists have you liked performing with?

K.Flay is amazing. She's an incredibly talented artist, and she has a great work ethic. We had the pleasure of touring the east coast with her, and that will be unforgettable. Kurt Vile was an interesting match up in Austin, and The Griswolds were really fun to hang out with. We also really enjoyed meeting MSMR and Kongos at the Firefly festival in Delaware last Summer. We've been pretty lucky to play with very talented people across the country.
I've been a fan of Step Rockets early in your career. I wanted to see you at the Grammys with a best new artist nomination. Are you content where you are in this musical journey? Do you feel like you're over-looked or getting the attention you deserve?
Dean, you're the man! As artists that strive for our best, it's hard to say if there will ever be total contentment with the current situation. The phrase 'step rocket' comes from the description of a multi-stage firing space rocket. We view that as an apt metaphor for what we try to accomplish with our career and art- always firing off into new things and moving forward. We're lucky to have a lot of great fans and their support, and that is really the attention we're looking for. As more people are turned onto our music, more good things happen for us, and that's a great thing. We are content as artists and really that is what is important to us. It's better to do something correctly than quickly for money or notoriety.
What's the goal of your band? Is it to write great music? Be an inspiration? Please explain..
We want to write great songs that outlast our lifetime. We want to create a body of work that is important to a group of people, even if that group is just the band. When you spend a lot of time on a project it is important that it has meaning and continues to be fun. Life is a short and a beautiful thing, and we're always striving to fill it up with important and meaningful work.
Lastly, if you had a choice of any artist, who would you like to tour with?
Miike Snow would be great; we'd get to see the show every night! There are so many great artists out there that we would love to be on the road with… Passion Pit, Phoenix, Twin Shadow, Glass Animals, Betty Who, Imagine Dragons and Grant Cutler are just a few. Oh, and also any artist that would like to perform on the moon with us.