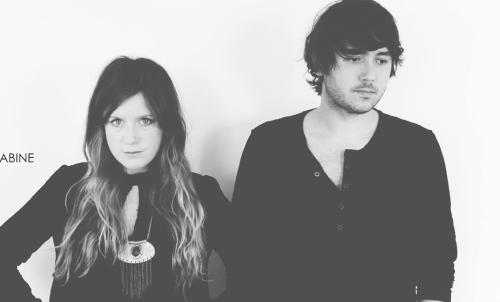 Freedom Fry is the the alter-ego of French songstress, Marie Seyrat, and Michigan-born musical chameleon, Bruce Driscoll (Blondfire / Avicii). The duo reside in Los Angeles, CA and make desert warm, bittersweet, retro-inspired, indie-pop music. They've played alongside Phantogram, Mothxr, Grizfolk, We Are Scientists, Echosmith, Superhumanoids, Dan Wilson (Semisonic), Juliana Hatfield & Matthew Caws (Nada Surf) and were the Artist in Residence at ALT 98.7. Where you've seen them: iTunes "New and Noteworthy," Nylon, Filter, Glamour, Earmilk, Hilly Dilly, Indie Shuffle, Ryan's Smashing Life, "How The Sun Sees You" (viral Youtube video with over 13,000,000 views), Wild Honey Pie, Kick Kick Snare, The 405, Mr Suicide Sheep, Blah Blah Blah Science, Daytrotter, MTV Artist To Watch, Les Inrockuptibles and more.
You have been building a strong base and fan community along with a buzz. Was there a pivotal moment when this began to take shape? Was it a song on the radio? A performance? A music blog?
Bruce: It's hard to pinpoint a single pivotal moment. Being in a band is something akin to continually walking upwards on a staircase made up of the tiniest steps imaginable. You almost don't know you're getting somewhere until you stop for a while and look around and realize you're at another level from where you started. These "look around" moments for us have been things like the first time we saw someone in the audience singing along or the first time we got to the top of hype machine. You kind of all look at each other and go, 'hey this might work out.'
Marie: Everybody who's supported and helped us get the word out has been vital. Every blogger, radio DJ, and fan has made a difference. After you first featured us a year or so ago we had a well known music supervision company reach out who discovered us on your site. We ended up getting lots of licenses from that and it helped build our fan base by getting the music heard.
Has social networking helped get your music exposed to a wider audience?
Bruce: One hundred percent. Looking back, I'm not sure how we could have done anything without it.
Marie: As an indie band it gives us a much louder voice and a means to communicate with anyone looking for new music.
Do you spend considerable amount of time networking and communicating with fans online?
Marie: We have interactions with fans on a daily basis and this always feels quite special for us to see that this particular person heard our music and is writing about it. So we try to respond as much as we can.
Tell me about the songwriting process and song construction…
Marie: There is no typical process as a song will come to us in various ways. We have tons of voice memos on our phones so sometimes we will pick one we particularly like or we head to the studio and get inspired by coming up with a drum beat or a melody on the guitar and we'll build up lyrics and everything else around it.
Your track Summer in the City was remixed by Starcadian and was featured in the viral Youtube video "How The Sun Sees You" which garnered over 13,000,000 views. How did that come about?
Bruce: That was pretty wild. We kept watching the views and hi-fiving. Not only for us but because I had known Thomas Leveritt, the director of that video for a few years and he's used music of ours in many of his videos and has always been super supportive. He innovated this technique where you can film sun damage on skin using UV light and filmed people reacting to seeing themselves like that for the first time. He asked us if he could use the song very casually by e-mail and the next day it just took off like crazy when he made it live on youtube. NBC Nightly News with Brian Williams even featured it. To think that the song got heard that many times is kind of mind blowing.
You self-produce all your songs. How did you learn the skill of music production? Are you open to work with other producers?
Bruce: The obsession for me started in my parent's basement with a Tascam four track. My teenage years were spent messing around with that thing and making sketchy sounding recordings. Eventually I wound up sitting behind different people running Pro Tools who knew what they were doing and did my best to absorb their techniques. I really credit my friend, Andy Chase, from Ivy and Camera2 (producer of Juliana Hatfield and Tahiti 80) for showing me the ropes so to speak. We produced a bunch of albums together in New York when I lived there and he upped my game in terms of engineering and mixing. It's really important to spend time working with people who are really good at it and not be too insular when learning recording. There are so many different ways of approaching things. Each person I've worked with along the way has taught me something.
Marie: We'd be open to working with other producers but it would have to be the exact right fit who gets what we're about. Our process is so intimate not just anyone would gel. Plus we now have our recording studio we built in our backyard so it makes it pretty easy and organic for us to record anything at all times of day or night when we feel inspired.
Each single you release is accompanied by a self-made music video. Tell me about the video process and how you go about that.
Marie: Well, to be honest, it all starts with the fact that when you're an indie band, you have to find ways to not spend too much money on things because everything you do in music has a significant cost. So we first asked for the help of friends who are DPs and own cameras to shoot videos. We would come up with a concept to make it easier for them and less costly for us, they would shoot for one day and we would direct on the set, and then little by little we started removing some of the tasks to make it more economical for us. Then we started learning how to edit on our own by watching many youtube videos, and eventually ended up buying our own camera and playing with that till we figured it out. When you write music you also like to have as much control as you can over the visuals. So it became pretty instinctive to shoot ourselves and experiment.
What's the goal of Freedom Fry? Is it to express yourselves with music or is there a larger picture here?
Marie: We don't really have a specific end game. These songs are what we write when we're together at home. It's how we connect and have fun and it's been amazing being able to loop anyone who wants to listen into our personal universe like that.
Bruce: The larger picture, for me, is being able to spend as much of my life as possible doing what I love. For that I've been lucky. I found what it was that I loved doing very early on in life and tried my best to never give it up even through the rough patches.

Does Freedom Fry have a place in pop culture?
Bruce: We're definitely very conscious of pop culture. I think, for any band, whether we end up with a place there will depend on if a song of ours can manage to reach the ear of the masses in a meaningful way.
Any practical wisdom you would give for a brand new artist?
Bruce: Don't get frustrated when things take a while. There's usually some really good cosmic reason for everything. Use the time to your advantage and get even better at what you do so when you finally get your chance to shine you're undeniable. And don't get jaded no matter what. Stay optimistic for whatever's next. Nobody wants to sit next to the jaded guy in the van.