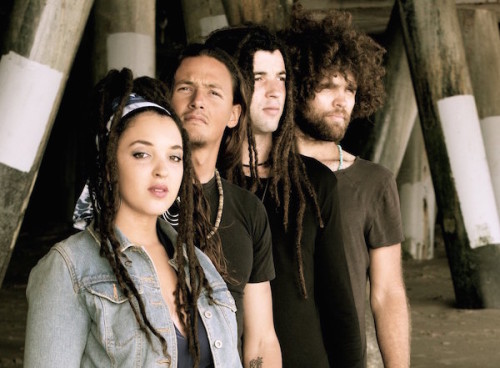 Kalyde infuses pop, reggae and rock and is fronted by Naia Kete. She was on Season 2 of "The Voice" Team Blake. Since the show, she toured and performed festivals including Bonnaroo and Outside Lands. Her last EP "Fire Breather," was produced by Mikal Blue. She co-wrote songs with Colbie Caillat, Linda Perry, among others. Her new band Kalyde has released two singles and are working on their debut acoustic EP.
Many fans know you from your time spent as a contestant on NBC's The Voice. How did the audition come about?
Well I had just moved to Los Angeles and was living in Studio City. The auditions were in Burbank, only 10 minutes away, and I thought, why not?!
Tell me about your experience with The Voice. What did you learn?
Honestly the most valuable take away for me was to learn to listen and trust my own inner voice, and that I always have a choice. If something doesn't feel quite right, I have the ability to speak up and make sure that I'm able to express myself in away that feels true to myself, my sound and my message. Being on stage of that magnitude and seen by so many people over night, you learn very quickly that a moment like is like no other, and you need to make sure people get to see who you truly are and what you're about. As artists we have an opportunity to change people's lives and the world with a single song, it's an incredible responsibility and blessing. I'm grateful to have learned that so early on in my career.
The EP "Fire Breather," was produced by Mikal Blue with songs co-written by Colbie Caillat & Linda Perry. What did you pick up from these songwriters?
Oh my gosh so much! I was incredibly fortunate to be working with such talented and accomplished songwriters. Linda was great because are sessions together were free flowing and she would challenge to get out of my head and into my heart and just let a song flow through me without having to think so much or worry if what I was saying or singing was bad…it had to FEEL good. I learned from Linda to write songs born out of the heart and soul of my emotion.
I co-wrote with Colbie, Mikal and Jason Reeves all together. It was great to work with the three of them because about the magic of partnership. It was clear that they had written a lot together so the sessions were so easy going and really fun! It inspired me to really nurture new relationships to songwriting partners and not take for granted the partners I already had.
How was it working with Colbie & Linda?
Nerve-racking, thrilling, exciting, fun…everything you could imagine to
be. I was star-struck at times, and then other times it was just as light-hearted as working with long-time friends. They both made me feel right at home in the studio. I'm very grateful.
The new single Thunder Cry is fantastic a song. It's unique too. Where do you draw your influences?
I grew up in a family reggae band. I knew pretty much every Bob Marley song word for word. Around the ages of 11 and 12 my heroes became India Arie, Lauryn Hill, Sade, Erykah Badu, Jill Scott…then in high school I got really into Motown. Stevie Wonder, Temptations, Jackson 5. I wanted my music to be a blend of what loved. What I loved about all of this type of music, was that it was driven by a message. By revolution. I wanted to make sure that my take on reggae, pop, soul, rock all blended together would have that same importance in people's lives. Thunder Cry while an upbeat, fun and danceable track, is so much more than that. It's a song for the people and a song for the earth.
Who produced the latest tracks?
His name is Ben West. Based in Detroit, I actually had the opportunity to work with him while on a writing trip in Nashville. We co-wrote the song together along with Shelly Fairchild. I have my publisher to thank for the genius of putting that session together!
You built a street following singing at the Third Street Promenade in Santa Monica. I've spent time walking the
Promenade and have witnessed lots of entertainment. What did you do stand out from all the other noise?
Well I was lucky enough to have played out there with my brother Imani Elijah and my boyfriend Lee. That in itself I think really draws people. They feel the love and strength of family ties. Not to mention my brother have been playing together since we were babes practically so we've definitely put in our 10,000 hours. I can't lock in with anyone they way I do with him. Lee and I have been working together now for more than 7 years! So as a trio we were just really tight and played off each other really well.
Let's talk online. What's your choice of network when informing your fans? Twitter, Facebook, Snapchat, etc.
Well we're on Twitter, Facebook, Youtube, Instagram regularly. Every day. But I'd say my favorite is probably Instagram. It's so simple. Driven by photos, so literally get a window into people's lives, and fans get a window into our world. Plus, the ease of being able to share an Instagram on Facebook or Twitter with a button is a really nice function when I'm managing both my personal accounts as well as Kalyde's.
Regarding the band's exposure. What has been the most helpful? TV, Radio, Blogs, Social Media, Performing?

I'd say the marriage of blogs, social media, and performing right now. We're still fairly new. Would love to get our sound on TV and radio, but right now we're working our online fan base which we're super grateful for and booking as many shows as we can.
Do you have your favorite music blogs?
Well Kings of A&R of course! I also really like Pitchfork, BrooklynVegan, Indie Shuffle, Hypetrak…there's so many great ones but those are a few!
What do you think of the current musical climate?
I have mixed feelings. There's a lot to balance. Gone are the days when you could be an artist focusing solely on your craft. Now artists like myself and band members are wearing many different hats. Not only are working on writing, recording and putting out music videos for our own music, we're having to learn cover songs and create and edit great videos for them and put them on YouTube to get noticed. We're social media experts. We're publicists, we're bloggers. The to do list is endless. That being said, it does level the playing field and put control in our own hands.
I also really appreciate how much people are craving something "different" and "unique." Most artists being played on the radio have many different influences in their sound. No one is doing straight pop or country or rock. There's blends happening which is great because there's a lot of room for creativity.
As far as touring. Who would be good pairing for Kalyde?
I think that obvious choice would be a band like Magic! I love their whole record. They have a great feel for reggae, but a really nice pop sound as well. They'd be perfect.
We would like to see a Magic! and Kalyde tour. Let's hope someone is reading…
Lastly, your plans for the rest of the year?
We'll be releasing an acoustic EP May 7th at Room 5 in Los Angeles. Whitney Myer will share the night with us. We'll be touring up and and down the east and west coasts on and off through the fall. Simultaneously we'll be working on recording a second project that will be fully produced!