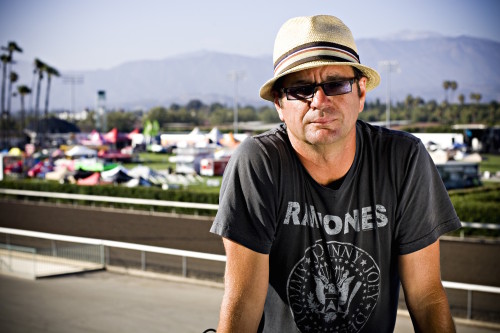 Kevin Lyman is best known as the producer and creator of the extremely successful Vans Warped Tour, the longest running traveling music festival in the world today. Celebrating its 20th anniversary this year, the tour has played to over millions of fans. Kevin has founded many other highly successful tours including the Rockstar Mayhem Festival and Down from the Mountain Tour. When not curating giant festivals, he sits on the Board of Directors for Saint Archer Brewery and the LA County Fairplex. He also has his hand in the record industry as co-owner of Side One Dummy.
A trendsetter for youth branding, Kevin has established creative partnerships with brands such as Vans, Kia, Journeys, Fuse, Ernie Ball, and Monster Energy Drink. Kevin was an honoree at the Grammy/MusiCares MAP Fund 2011 and received the Billboard Touring Awards Humanitarian of the Year in 2009. Recently he has founded The Entertainment Institute to revolutionize music business education utilizing his 35 years of experience.
You are best known as the creator of the Vans Warped tour, the longest running traveling musical festival in the world today, as well as the Rockstar Mayhem Festival. Are you content with your achievements or do you feel there is unfinished business?.
KL: No there is always stuff out there to do. I've always felt there is more out there to be done. People have asked me what was the best Warped Tour. I say "it's the one that is going to happen, I hope." You can't live on status quo. I think what we are doing now , especially with The Entertainment Institute (TEI), some of the other branding things like speaking engagements, are pushing in the direction I want to go. I thought that education was going to be my calling and maybe the music thing was going to be a passing thing and I would get on with my life.
When you founded The Entertainment Institute, what sparked that idea? KL: A few reasons are that I speak at colleges and universities quite a bit. I firmly believe in the education process but sometimes kids come out of school not quite up with everything that is going on. They are not keeping current. I thought that maybe we could create a supplemental education program to teach them real time. Not to replace anything that one is doing in education, but to keep it in real time.
What do you mean by real time?
KL: Since we are so tied to technology now which is evolving and changing every six months, you can't really learn from a tech company, or the tech side of it. It's how to keep current and up to date and relevant so when you walk into the workspace you are totally up with the things changing. I spend my life right now just trying to keep relevant. It's a full time job. The universities are brilliant and have a lot of experience, but the way apps are working and how you have to keep current with streaming and the rights to music is changing every day. We thought that maybe with mentors that are still working in a business to help these professors would be a cool thing.
I agree that keeping relevant is a full time job.
KL: We never realized we would be moving in such short increments, so the more we can do to help people in this changing business would be good. We are trying to make it affordable for kids to expand. When we merged up with Bandhappy , which is Matt Halpern, the drummer of Periphery, we were teaching musicians how to supplement their income while they are still being musicians. You don't make as much on records as you used to, being on the road was going to be the solutions to everyone's problems; but now the road is cluttered. One thing you have is time. You must use that time wisely when you're an active band member. That is what bandhappy is all about. We have artists who are out on the road right now who are teaching lessons, after sound check or before sound check and using their knowledge to help enhance themselves and hopefully enhance their financial situation in the music business.
What separates The Entertainment Institute (TEI) from other music programs & curriculums?

KL: One thing we are doing is one-on-one time while they are on the road like teaching a drum lesson one-on-one. We can help keep the schedules right, that the artists are getting paid, make sure the quality of lessons are up and on the curriculum side of their focus. I did one last week. "When is it time to go on the rode". I can do that by Skype while I am at home. So we can work it into our time and when we are available to do a lesson. We are tweaking the model to bring it into the home , we are trying to work it so executives and people involved can do it based on their busy schedule.
Could you describe the layout of your curriculum?
KL: My criteria is when is the band ready to go on the road. Going out on the road is everyone's dream but you don't go out on the road until you are the biggest band in your own back yard. Try to develop your following and get your record keeping up to par. You have to start looking at your band. A brand and a band is very synonymous now. So you have to start identifying your band. Are we all in this together? Because waking up at two in the afternoon with one guy doing all the work won't cut it. We are now seeing that we need a CEO, a CFO, and are these the kind of people that I want to be hanging out with for the next five, ten or twenty years?
How many people are working with you?
KL: Matt Halpern, Jen Kellog who is my tour manager, tour accountant and also a teacher in Chicago. Dakota, an intern, who worked his way into a job working on speaking engagements. The mentors are starting to line up now. Mike Mowery, from Outerloop Management is starting to do some mentor sessions, Dave Shapiro from The Agency Group also is doing some. We are now getting more calls from people who want to be a part of this. I'm looking for people who have that real indie spirit.
TEA has partnered with Launch Music Conference. Do you plan to partner with other conferences?
We are going to be running a session in Chicago for the Chicago Arts Association. We will be at other conferences, but I like the Launch Conference. Jeremy does a great job with it and I like Lancaster, Pa. Nothing better than that hotel and walking over to the farmers market across the street. You can walk to all the venues and see the bands.
Do you believe in the traditional method of an artist securing a team of managers and lawyers and shopping their music to music labels?
KL: Absolutely not! That traditional way of building a team right away, I don't think is necessary. You fill those roles as they are needed. Do you need a manager or do you find someone young to grow with you. Also, I think so many more bands are starting to work through that legislation – on the whole separation of manager and agent. It is a very antiquated law. People are looking at themselves – do they need a record label. Do you shop to a record label or can we build a team to build our own brand and market our own product. You have to have someone who is savvy enough. That person could be a twenty year old who wants to start helping your band at this point. The lawyers are trying to find something else too. Now they are going to be able to sue each other over which songs sound the same. I think they relaunched a cottage industry for themselves.
Success comes from building and network. What does a network look like today that a musician would need to establish?
KL: When you are starting out you want that network to be in your community – you want to be a leader in the DIY community first. As you build that network out, you draw a circle around your area and see where you can get to on Fridays and Sundays. You start building your network out that way. You find musicians and artists at the same level as you are to trade fans, to network within. It used to be one label pushed all their same artists. Now you can be an indie artist, and if you are smart about it, you can start building a touring network, a marketing network, merchandising network on your own. You have to put yourself out there and find who is as serious as you are about your career.
What are some of the new challenges artists face today?
KL: The same as ever, financial. You're always looking at financially where do I take that step. If you need a website built, there are lot of young kids out there that want to be involved in music. Have that kid build your first website, have him manage your social media. Kids always come to me, how do I get into the business? You have to find a band you believe in and you are passionate about and bring them the reason you want to be involved with them.
If you see their website are not up to speed, show them how to fill in the gaps. It's not like I am necessarily looking to hire someone. It is if someone comes to me and says this is what you are lacking. Music now is being run out of all the communities in the country. New York is pretty much a dead market. The most creative place for music now is Nashville. It's not just country – it's all types of music. There are technology companies moving in. It is a very fresh town with many ideas being thrown around. I almost feel I am hitting the dinosaur age when I hit the music part of SXSW since everyone is at the tech part.
What advice would you give to an artist who wants to build a long standing career?
KL: Patience and hard work. Two basic principles in life. The bands in my realm of music that are having the most success are bands that hung in there. Maybe they sounded different like a Mayday Parade or Pierce The Veil. The Maine is also another band that hung in there. It's funny, a band like H2O, who are more relevant than ever, have been around 20 years. You have to figure out how to hang in there, continue writing good songs, nurturing everything you possibly can be. It's shaking hands and signing things. So many bands have monetized the hand shake by charging for VIP tickets to certain people. I tell bands do NOT do that until you are so sure of yourself that that handshake is not as important as it is now. It's a hard grind. Figure out what you are good and how you supplement. Are you going to write songs for other people, start scoring music for television, or for movies, etc.
Do you musicians need to be entrepreneurs to have a successful career?
KL: Absolutely. You have to be able to expand your brand all the time. I have a brewery, and invested in a toothbrush company. Artists have turned themselves into traveling teachers where they can earn a couple hundred bucks a day.
The Beatles performed on the Ed Sullivan Show in 1964. More than 70 million watched on the night of their debut. Where would an artist go today to capture just a fraction of that audience?
KL: We do not have that anymore. The one thing the Vans Warped Tour can do is accelerate your exposure by the community we have built. We can get you at least in front of a half a million people. How an advertiser actually advertises on TV is challenging anymore, as there are only so many people that watch that channel at a given time. You have got to have a full prong approach. I don't think there is anyway to reach that anymore.
How do you juggle your time with all your business ventures?
KL: I have great people in the office that all know what they are doing. They are so focused. My challenges are how to get people to communicate outside of their bubble. I am constantly feeling right now that I am running from person to person and moderating everything we have going on. My time is tough as I want to balance it between my family and my business. My wife says I have never seen you work harder in your life – but that is because I am going through a transition area in my life where I am starting to build things.
What new artists do you enjoy listening to today?
KL: Night Riots and Moose Blood. Those artist are going to be the breakout this summer. I am listening to a lot of reggae again. I've been listening to a lot of old punk again because I am actually doing a one day festival in October. It's going to be Punks Not Dead Festival. Its going to be all the old punk bands from my history that will be playing one show together. Like a family reunion. Its October 10th in LA.