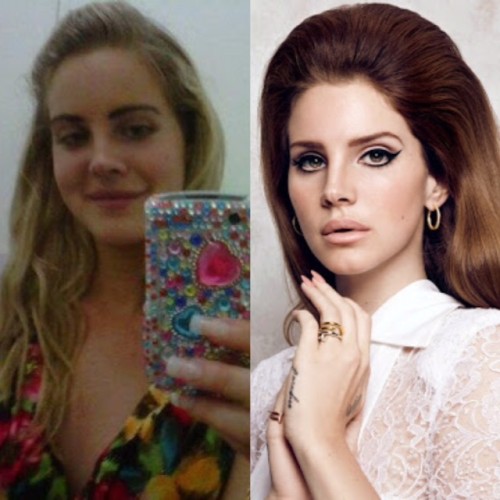 Lana Del Ray is promoting her new album ​'Honeymoon', and up until this day, she is keeping her vintage fashion style. It works..
Lana Del Ray has successfully crafted her image as a retro 60's songwriter that glorifies death, gloom, & suicide. Not bad for a millionaires daughter. We often her terms thrown around such as a manufactured & authentic. The manufactured artist is the creation by a machine such as a music company while authenticity is truthful in origin, not a copy, and genuine.
Is it possible to manufacture authenticity? Absolutely. "Starbucks decided to force/encourage their staff to request the names of customers when taking orders and then announce them when the drinks were ready. It was an attempt to manufacture authenticity — to artificially create the social bond that might naturally grow between a vendor and customer in a bygone era when local customers patronized local shops staffed by local employees where everybody was on a first name basis" (Kent Valentine)
"Pop artist Lana Del Rey has sold seven million copies of Born To Die Album. "Her rise to fame was flawless, in spite of constant probing about her authenticity, her penchant for being choked in her music videos and the strength of her voice.
"In 2010, she released one bland album under her own name, Lizzie Grant, before she wiped the slate clean, deleted her old material from iTunes and relaunched herself as a 'gangsta Nancy Sinatra' – a heartland bad girl in Daisy Duke shorts with a taste for bourbon and older men. Her music was cinematic, melancholic yet pretty catchy, propelled by 808 drumbeats and glossed with vintage Bond theme strings. She appeared a new cross-over force in pop: glamorous, artsy and 'real'.
But when music hacks sniffed out her previous material, found out she was the daughter of a dot-com New York millionaire, clearly had major label backing, and, with one crushing Saturday Night Live performance, realised she was seemingly incapable of carrying a tune outside of the recording booth, they smelt a rat.
Del Rey went from blogosphere darling to heretic in a matter of weeks, her rise recast as a rouse to lure hapless musos into liking another manufactured pop princess. But does any of that really matter? From Motown to Madonna, some of the best pop music has been made by committee. And some of the greatest pop icons have built their legends on complete lies. Bob Dylan used to claim he ran away from the circus – he, in fact, dropped out of college. No one believed for a second that Michael Jackson really was 'bad'. Whether or not Del Rey really did ride around in the back of an Al Camino with drug dealers is beside the point." (Tom Slater)
Not living up to the hype is the biggest risk when manufacturing authenticity & of course you will always loose to authenticity.
Anyhow, if you attend to manufacture authenticity, these key points are worth considering:
You can manufacture authenticity, and it can work, but it takes effort, focus and consistency.
Occasionally you'll lose out to a superior product, even if you create a better experience.
If you're going to fake it, you have to be willing to keep up the facade if you want to continue to reap the benefits. (Kent Valentine)