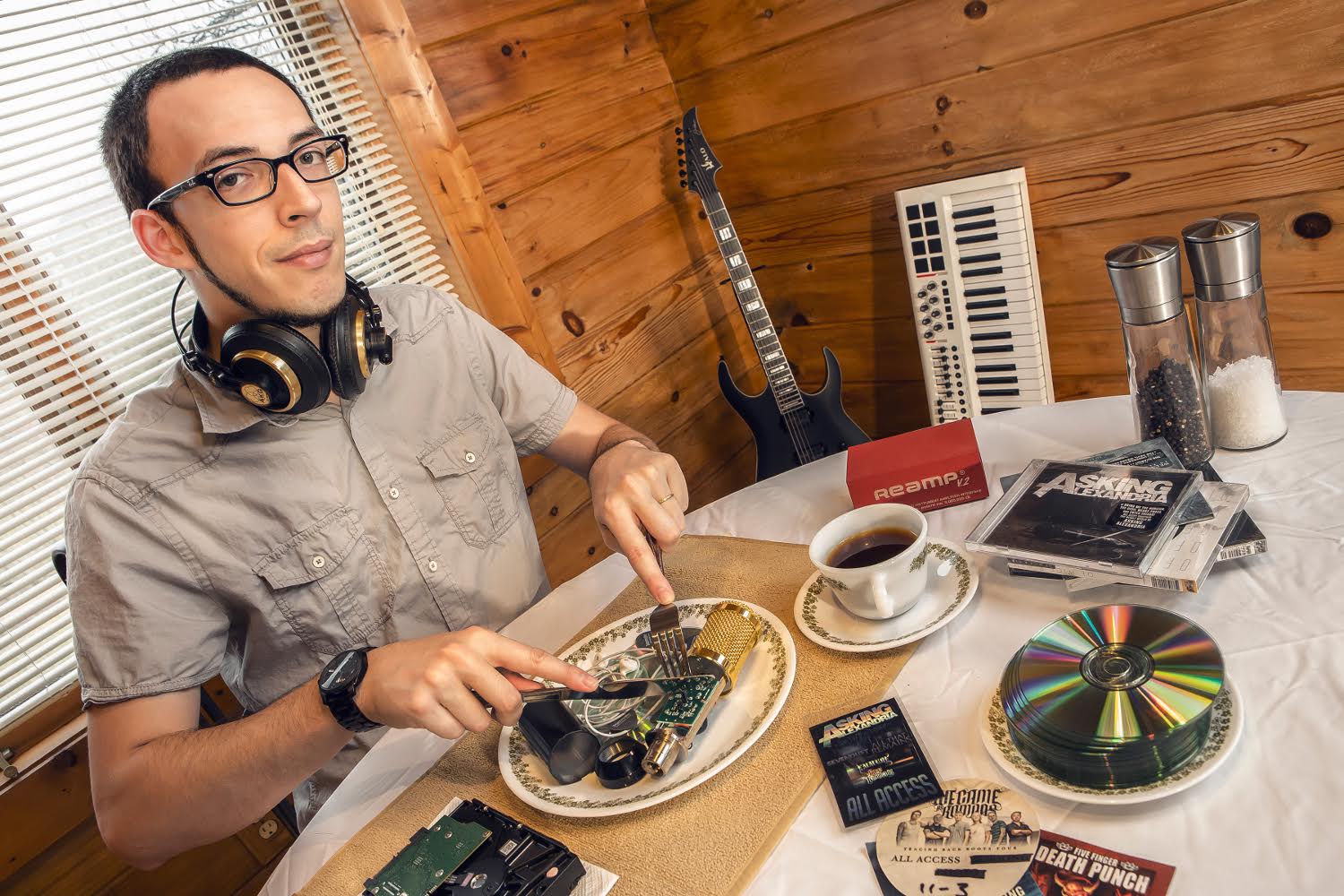 I had an interesting creative discussion with Joey Sturgis, an entrepreneur and educator, and a known producer in the rock genre, working with popular acts such as Gold selling Asking Alexandria, Of Mice and Men, and The Devil Wears Prada. When he's not producing, he is running a business. Joey owns audio recording software companies, Joey Sturgis Tones and Drumforge, and heads an educational mixing site Nailthemix.com. Lastly, he has his own recording community Unstoppable Recording Machine Podcast.
What is your brand?
Joey Sturgis Tones (JST, for short)
How did you build Joey Sturgis Tones?
Joey Sturgis Tones came about in 2014 with the introduction of my flagship plugin, Gain Reduction. Gain Reduction was introduced as a simple solution to give everyone my signature vocal sound, as can be heard on all of my work with bands like Asking Alexandria, We Came As Romans & dozens more. Over the past 2 years, half a dozen other plugins have been introduced based on feedback from the audio community, and built around the notion that professional-quality sound can be achieved without the traditional "professional-quality" price tag associated with most plugin manufacturers. I've designed the plugins around problems I encountered in the studio, and I gave them designs that any musical or creative person could understand, rather than requiring extensive audio knowledge to use. I wanted to break down technical barriers between artist and production.
How did you think of Joey Sturgis Tones?
The idea for Joey Sturgis Tones was sparked when the music industry side of my work coincided with my entrepreneurial endeavors. In the studio, I found himself solving many audio problems in specific ways in order to get the right sound. I really started to see patterns and began looking for ways to streamline the workflow. By creating plugins for a specific purpose, I'm now able to get the sound I want without any hassle.
Following the demand for quality products such as Joey Sturgis Drums & my POD Farm Preset Packs, it made complete sense to offer my plugins to the public as well. Thus, Joey Sturgis Tones was born.
Does it solve problems?
Our plugins solve two problems:
1. Plugins don't have to be complicated. There are some plugin bundles out there with hundreds of pages of documentation about features many producers and engineers will never use. It's convoluted. Instead, we wanted our plugins to be easy to navigate, allowing even the most inexperienced mixer an easy and intuitive experience.
2. As mentioned before, pro audio doesn't need a "professional-quality" price tag. There are plenty of pro audio companies charging thousands of dollars for their plugins. We don't want to be one of them. Instead, you'll find that all of our plugins are priced for the bedroom producers and musicians looking to learn their craft. We constantly offer sales to our email subscribers and Facebook fans, because we'd rather build a community than hold our plugins on an unattainable pedestal. That's not to say pros can't use our stuff too – I'm proving day in and day out that these plugins work!
Did the building phase require a budget?
Absolutely, I invested an initial $10,000 to build the company from scratch, and it was profitable on day one.
Do you have a marketing background?
While I don't have any formal background in marketing, I've made a career out of marketing myself. You don't get to a point where your name is recognized in every facet of the rock & metal industries without being able to construct a genuine, cohesive brand. The fact that I'm still able to do that while still reserving time for new products, podcasts, customer service emails and so much more goes to show that marketing has become second nature in everything I do. I've put extensive energy and effort into learning everything I can about marketing as well, and I spend money on internet courses and books to learn more about it.
How do you deal with competition?
Competition is a strange thing in the music industry. There is an overwhelming sense that we're all working toward the same goal that softens most of the competition that exists. In the plugin realm, there are so many options available; it's hard to call any of them "wrong". It's an odd thing when you're competing against companies that make plugins you might also use yourself. While we might be competing for market share against each other, it's always great to take a step back and realize that we're working on music for a living! What is there to be upset about???
How do you maintain a relationship with customers?
I personally frequent audio forums and work with a tight-knit team to ensure my customers have the best experience possible. Have a problem with an upgrade? I'm in the loop on it. Have a question about upcoming releases or a certain feature? I'm likely to answer it myself!
How have you used technology to market your brand?
Social media has been the biggest benefit to marketing Joey Sturgis Tones. A lot of the time, companies will spend huge amounts of money to get people to buy their product. But within our social networks, it's not just an ad thrown in your face. It's a place for you to ask questions, get answers, and connect with others like yourself. Most people are more likely to buy something recommended by a friend or mentor than advertised on TV or online. Social media has made it so that you can now have dozens of these connections in one place at one time.
Has the advancement of technology hindered or benefit the brand?
100% a benefit. Our reach goes so much farther and faster than if we were trying to do this 10 years ago. From a marketing perspective, we're able to hold meaningful discussions with our users and get the best deals out to them moments after they go live on the site. From a user perspective, many new engineers and musicians are able to get into recording as computers become less expensive and more powerful. I'd say that's a win all around.
What are some tips you would offer to other creators and artrepreneurs?
I'm glad you said "artrepreneur", because art is what it all comes down to. We're in a unique field where everything is based on perception. While one person may not fully comprehend your creation, another may see it as the life-changing tool you hoped it would be. We're all in the business of creating something meaningful. It's just a matter of getting it into the hands of the people who need it.