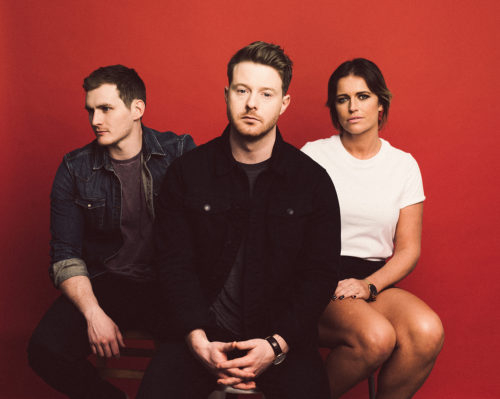 Indie pop trio Caezar releases the radio ready Hold On. Upon hearing the track, I was instantly hooked. Think Ed Sheeran meets Imagine Dragons with new spices added to the recipe. The band is releasing an EP which was produced by Justin Broad who has worked with Jessie J and Corinne Bailey Rae.
How did the band form?
Chris and I (Rich) first met through our Rugby club, Old Cryptians RFC, in Gloucester, UK. We both spent our late teens playing together and forming a close friendship as teammates. In 2014, we both had injuries that put us out of action from playing rugby for a while (Chris hurt his hip and Rich knocked out a few teeth!). As a result we spent our time sulking around, not really knowing what to do ourselves. We started messing around with Chris singing and Rich playing the guitar. After a few public shows, it became apparent that there was a clear chemistry that crowds responded to. This culminated with the two being invited to open the prestigious Barn on The Farm Festival, which featured Hozier and James Bay that year, and this experience really opened our eyes to a career in music. A few years later and fortune brought Zoe into our lives – soon as we heard her sing we knew we wanted her as part of the band, and she's been the heart of the band ever since! 
How did the latest track Hold On come about? Can you elaborate on the writing process?
Hold on is actually one of the oldest songs in our repertoire. Chris had the Chorus a long long time ago, but the song at that time was very much a slow ballad and didn't really have enough bite. After a few years or performing and re-working the song, it was developed into a bittersweet pop track. Once we got into the studio with our producer, Justin, he brought new life into the track and added the dance and developed it into the electro-pop track it is today.
What's been your biggest challenge as a band?
Creative differences! We all have quite diverse musical tastes and inspirations, Chris loves Muse, OneRepublic and Maroon 5 while Rich grew up on a diet of Dave Gilmore and John Frusciante, and Zoe brings the soul of Aretha Franklin and Marvin Gaye to the mix. It can make for some heated debates about the direction of a song, but the sum of the collective ingredients is something we all agree on. We know we're onto something special if all 3 of us can vibe with it.
Who would you like to tour with?
In terms of bands and acts who are still alive – acts like Matt Corby or Raleigh Ritchie would be amazing, they're two incredible acts who are unbelievable live performers. We've been vibing on Sigrid a lot this year as well. If we're going with any band ever, then Queen – just to be in the presence of Mr Mercury!