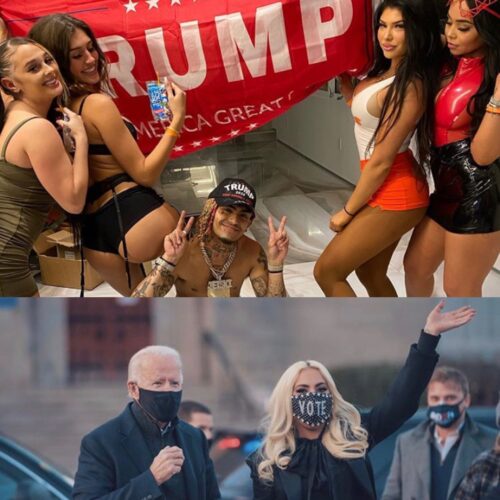 Artists are showing their support in the final stretch of the presidential race. Lady Gaga joined Joe Biden at a drive-in campaign event in Pittsburgh, Pennsylvania, and performed her radio hit "Shallow".
Lil Pump showed up at a Trump's campaign rally. Lil Pump said, ""All I gotta say is Trump 2020 b—-," he said. "F— I look like paying a extra 33 is tax for Biden, b—- a– n—-. F— sleepy Joe n—- Trump 2020 b—-." Yo, no cap… If Trump does not get elected, I'm moving the f!#$ out of here n***a," said Pump in a recent post on his Instagram Story, sporting Trump MAGA hat while doing so. "I'm going to Colombia, f#$! it." Don't make a promise you can't keep, Pump.
Miley Cyrus, Katy Perry and Swift have publicly announced they are backing Biden while Kanye, Lil Wayne, 50 Cent, and Ice Cube are throwing the support behind Trump.
This is an historic race. The election has divided families, friends, artists, and the religious. Where will America go?