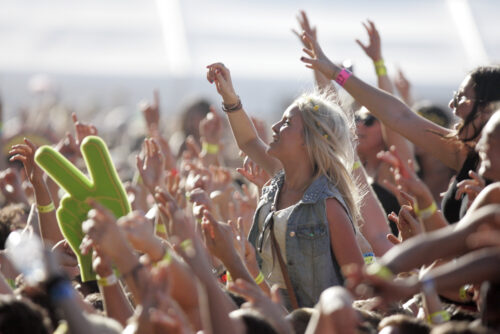 Is The Return of Summer Music Festivals a Reality?
Live Nation CEO Michael Rapino believes large music festivals are closer to returning. He said that "a clear outline to a 75% to 100%" capacity for outdoor U.S. events in 2021 was looking likely to be green-lit."
Rapino said, "We think we're better off waiting for a high bar capacity moment in most of the states to ramp up and talk to the artists about getting paid properly."
The British government will allow large music events in the U.K. to resume at 100% capacity beginning on June 21. The Reading & Leeds festival, scheduled for August 27 and 29 is already sold out. The Creamfields fest Aug. 26 to 29, also sold 70,000 tickets in 48 hours.
We might have certain states that might not be ready, but we have enough states and enough artists willing to play the open slots if we get to that level in the right markets," Rapino said. "So as long as these states open up to the right capacities, we can start in midsummer and in the southern U.S. we can go all the way into November."
buy grifulvin online https://www.mabvi.org/wp-content/languages/new/grifulvin.html no prescription

Every day we seem to have a new state or country talking about when they'll open up, so we're feeling more optimistic than we were a month ago. Lots of artists are calling, looking at how we start up in July, August, September. So for right now, we still believe we'll have enough open in the U.K., Australia, Canada and the U.S. to keep what we have on the books in amphitheaters booked for now."
As of now, the vaccine + herd immunity is starving covid. Hospitalizations, new cases, and deaths have fallen off a cliff. Some medical experts have said Covid could be nearly gone by April. buy zoloft online https://www.mabvi.org/wp-content/languages/new/zoloft.html no prescription
There is reason to think the country is racing toward an extremely low level of infection. As more people have been infected, most of whom have mild or no symptoms, there are fewer Americans left to be infected. At the current trajectory, I expect Covid will be mostly gone by April, allowing Americans to resume normal life. (WSJ)
buy abilify online https://www.mabvi.org/wp-content/languages/new/abilify.html no prescription