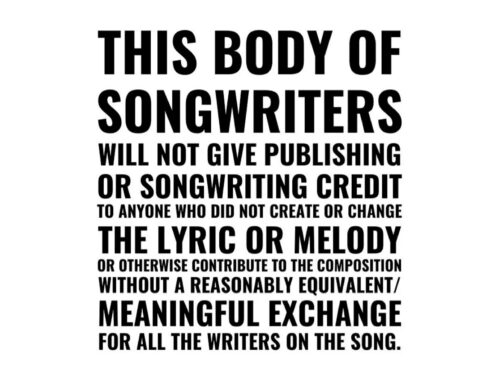 The songwriting landscape has changed today. How? Singers are taking credit for songs they didn't write. Why? So they can look more credible, and more importantly, earning song royalties. Sure this has always happened, but a shift is happening and those days may be coming to end.
You probably haven't heard of the name Emily Warren Schwartz, but you definitely heard her songs. She's written with The Chainsmokers, Dua Lipa, Khalid, Sigrid, Melanie Martinez, and Shawn Mendes. She co-wrote the mega hit Dua Lipa's "Don't Start Now".
The in demand songwriter is sick of being extorted and bullied she tells Rolling Stone.
In fact, a songwriters group known The Pact is now demanding artists stop taking credit for hits they didn't write.
A popular singer was demanding a huge fraction of publishing in exchange for recording a song written by Warren, but that artist didn't contributed to the writing process.
This led to a call of action via an open letter from members of the songwriting community including Justin Tranter, Victoria Monet, Ross Golan, Tayla Parx, Savan Kotecha, and Amy Allen.
"This body of songwriters will not give publishing or songwriting credit to anyone who did not create or change the lyric or melody or otherwise contribute to the composition without a reasonably equivalent/meaningful exchange for all the writers on the song," said the letter.
As legendary songwriter Diane Warren once said "How can someone look in the mirror and know they didn't do something and their name is on it for money for credit, it's a lie." Apparently, it's pretty easy.