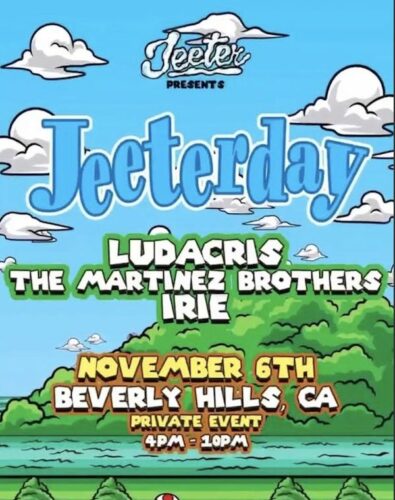 Movie stars, music artists and pro athletes congregated over the weekend in sunny Los Angeles with one purpose to get High. Seriously, they assembled together and celebrated the growing marijuana industry.
This past Saturday marked Jeeter Day, a special holiday recognizing the cannabis company with a private outdoor event that consisted of video games, a light show and live music.
"Jeeter Day overall is to give back to the fans and the Jeeter community," Lukasz Tracz, Co-Founder and Co-CEO (with Sebastian Solano) at Jeeter, shared with me at Forbes. "The whole idea formed from our customers that are so loyal to us. What can we do to give back to them? Jeeter Day is literally a national holiday for the customers and all the people that use Jeeter."
American governors have passed sweeping legislation that allows recreational marijuana in 18 states while medicinal cannabis use is legalized in 37 states.
Who showed up? Dwyane Wade, Gabrielle Union, Demi Lovato and rapper Ludacris.
"You must have eaten like 100 bucks worth of pot, and like 30 bucks worth of shrooms man. So I'm gonna need that 130 bucks, you know, whenever you get a chance." – College Boy 2