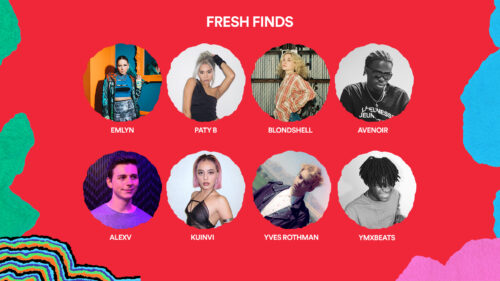 Since 2016, Fresh Finds has playlisted over 40,000 artists and—in 2022 alone—has playlisted over 13,000 artists. Over the last year, Fresh Finds was responsible for over 108M user discoveries of artists. Artists who blew up through the program include CLAIRO, Amine, Omar Apollo, Pink Sweat$, JAWNY, Surfaces, Kota The Friend, Remi Wolf and many more.
Today, Spotify released a new set of Spotify Singles from our latest class of Fresh Finds artists:
emlyn – an emerging Alternative Pop singer/songwriter. She was named one of Spotify's best new artists in their "Fresh Finds 2021" list, featured on the cover of the SALT playlist 3x, and has had tracks placed in countless other playlists including many New Music Friday's around the world.
Avenoir – Canadian singer, songwriter, and producer Avenoir is making noise in the underground R&B space. A blend of nostalgic drums from the early 90's accompanied with neo-soul melodies and a sensous tone help describe his ever-evolving sound.
Paty B – Patricia Blyde a/k/a "Paty B" was born in Miami and raised in Lecheria, Venezuela. Paty B was musically influenced by her Venezuelan-Dutch father, a jazz musician, producer, pianist, and arranger who founded and built a music academy named "Blue House". At the age of 15, she graduated as a professional classical ballet dancer. With her parents seeking better opportunities for her music career, she moved to Miami and upon graduating from high school she auditioned and received a scholarship to attend Berklee College of Music.
Blondshell – Blondshell is the angriest, clearest, and most vulnerable side of LA-based singer/songwriter Sabrina Teitelbaum. She quickly learned to tell her own stories through songwriting and found relief in confessional lyricism – equal parts devastating and droll, sexy and tempestuous, yet always deeply relatable.