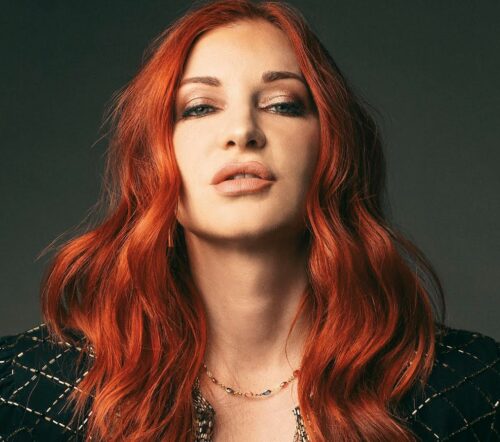 Who Is The Queenpin?
A quick look at Alisa Apps, aka "The Queenpin," suggests that she's not one to fit into a mold, and she's completely happy about that. In fact, that's just the way she wants it to be and she shows no signs of stopping soon or compromising her values.
She's both a West Coast and an East Coast girl and you'll find influences of both places in everything she does. After starting her career in Los Angeles, she next took on Las Vegas and performed for over a half a million people during her time there. She now lives and performs in Miami and is taking that city by storm as well.
It's no secret that an artist like Alisa is unique in today's music business, where other up-and-coming singers seek to hire well-known managers and release music with big corporate music
labels. Alisa will tell you straight out that she's against all of that. She's a rebel, and she likes it that way. In fact, when asked about corporate music and artists, she flat out says, "I
aggressively oppose it."
Alisa instead credits her success to not shying away from taking risks and promising to always
maintain her own true identity. She also seeks to inspire others to do the same, and her fan
base will tell you it's working well. Fans tell her all the time about how her music encouraged
them to take risks in their own lives or pursue their own dreams. One notable fan even
mentioned that Alisa inspired them to lose 164 lbs and start their own restaurant. Stories like
that keep Alisa going and wanting to fight even more for the "little guys" and continue to oppose and push against corporate music.
So is Alisa just portraying this persona because she's one of the many independent artists that
couldn't get noticed by the bigwigs in the music industry? Not at all! She's definitely been seen by those that hold power in high places. In fact, when Simon Cowell asked her if she'd write songs for his artists, she flat out told him "no." Why? Because she knows that "in the business," the artists get the short end of the stick, and the select few executives at the top reap all the rewards.
It was "nos" like that along that way that helped her make a name for herself and prove that
she's a force worth reckoning with in the music industry. Alisa writes her own songs, produces
her own albums and music videos, and designs her own merchandise. She's single-handily
redefining what it means to be "self-made" in an industry that pushes back against that concept
and instead tries to focus artists on fitting into a set mold.
Shaking Up The Music Industry From Every Angle
No doubt you've heard of Alisa Apps in some capacity, whether you think you have or not. She's
famous for challenging Lady Gaga to a million-dollar sing-off at the beginning of her career over a decade ago (Gaga's camp has still never responded). She said this challenge provided a way to show "the underdog going up against the established act." This challenge and others like
these also helped Alisa start to shake up the music industry. No emerging artist had ever been
so bold to take on something like that before (especially against a big player like Lady Gaga)
and remain serious about it.
Just when people might have thought that Alisa was already doing enough to rattle the music
industry, she didn't stop there. After 5 years of training, she became a pro boxer and found a
way to link her two passions into one unique venture. It's not just for hype, either. She's serious about it and a real force to be contended with in women's boxing. She's got the right
connections too. You'll find her amongst the likes of world-famous names like Mike Tyson,
Manny Pacquiao, Floyd Mayweather Sr., and Roy Jones Jr.
Further achieving her dream, she made her professional boxing debut in Columbia in 2021, and
even that wasn't without people in power trying to hold her back. The President of the
Colombian Boxing Federation sanctioned a fight that didn't follow previously agreed-upon rules
and regulations, and Alisa was not going to sit back and take it. She quickly confronted him
about his corruption and is currently channeling her anger into a new single and music video
that will let the world know another place where those in charge are corrupt.
She's also continuing to turn heads by not giving up on challenging other big-name artists to
meet her in the boxing ring for a bit of competition. Since her initial sing-off challenge to Lady Gaga, she's created a social media movement that calls out other established singers to fight and sing off as well. The goal was to put the spotlight on singers who rip off other artists and cave to the establishment. "It's proven itself," she says, "It's not a risk anymore. Entertainers are getting in the boxing ring and fighting professional fights."
In fact, she's pushing forward with more guts than ever. One of her most recent challenges
involves promising a $500,000 sign-on bonus to the first "Top Ten" singer that agrees to meet
her in the boxing ring and fight against her. She's also recently challenged Adele to a
singing/fighting challenge, which she says would be an exciting way for Adele to "give back" to
her fans and provide them entertainment that they want to see.
As far as exposing music industry corruption, she shows no signs of letting up on her mission
for that either. She's said more than once that she expects "to expose how unfair and crooked
these pop stars and their major record labels are."
Challenges and Opportunities
Alisa will tell you that she's definitely faced her share of challenges and critics as she made a name for herself, but she doesn't let those hold her back and won't shy away from whatever
comes her way. Instead, she sees challenges and roadblocks as opportunities to do even more
creatively and inspire more people to follow their dreams.
Whether calling out injustices in the music industry or the boxing world, every new venture Alisa takes on opens up an opportunity or connection that she would not have otherwise.
She admits that she had unique ideas that had never been heard of in the business before, and
when mainstream music executives refused to listen, she didn't let that stop her. Their closed
doors turned into opened doors for her, and by staying true to her creativity, she sparked a
movement in the music world and unleashed a new form of entertainment that had never been
attempted before.
She's clearly not afraid to take on all the big wigs either. Anyone that follows her knows that she filed a copyright lawsuit in 2016 against Universal Music Group (UMG) and artist John Newman. The suit stems from unauthorized use of her copyrighted song "Need to Know," which she wrote in 2007 and released in 2008.
It's not a secret how the music got into the hands of UMG, Alisa trustingly shared it with some
key players there, not knowing that they would take the opportunity to use it for their own profit. First, she met Jay-Z (whose Roc Nation label falls under Universal Music) at a Clive Davis Grammy party at the Beverly Hills Hilton and shared a copy of the song with him there. Then, shortly after meeting Tony Swain at his manor house in England (head of International A&R for UMG), she shared a copy of the song with him as well. Never did she give permission for either of them or UMG to use it without permission or credit.
Soon after, a new recording artist named John Newman repurposed the track and used it as his
song "Love Me Again." The stolen song debuted at number one on the UK Singles Chart in
2013 and was nominated for British Single of the year at the 2014 BRIT awards. Apps received
no recognition, credit, or compensation for her stolen material.
As expected when facing powerful forces like UMG, which had strong teams of lawyers and
knew how to stall cases, her lawsuit has met a few challenges along the way. Ultimately, it
never made it in front of a jury. However, her fans know the truth, and the evidence is out there for anyone to hear for themselves.
Although she's made a personal decision to move past this challenge and let it go from a legal
standpoint, she's not letting it stop her ultimate fight or prevent her from looking toward the
future. She knows she'll have the opportunity to rekindle the legal battle with Universal Music
Group one day, and when she does, she intends to "crush them" with everything she's learned.
And she warns others who may try to steal her music that she will find out and not hesitate to
pursue them legally and publicly with every avenue she has available.
Alisa's Advice To Others About Forging Their Own Path
Alisa's a massive supporter of others who forge their own path the way she did, whether as an
artist or anything else. She continually encourages her fans to "demand better music" and
pushes it even further to say, "buy music from an artist who was banned by the record
companies." It's unlikely she'll ever stop fighting for the "little guy" and calling out the injustices of the big names in the industry. She's all about doing things the "Alisa Apps" way and waiting to see what she achieves.
No doubt the people seem to love it. With nearly half a million followers on Instagram and
growing, she's only continuing to up her game. On her YouTube Channel, you'll find her
collection of videos that challenge other artists in the ring and point out what's wrong with the industry and mainstream artists, and you'll see that she's definitely not joking.
Alisa hopes that her inspiration shows others that they can follow their dreams and not let
anyone else have the capacity to define who they are. "I'd rather spark a revolution than be
famous," she says. However, with her unstoppable drive and how things seem to be going, we
suspect she'll end up doing both.
Just look at her 007-inspired video for her hit song "Top Of the World." The lyrics and imagery
speak for themselves, and her goal is to get the inspiring message in front of those who need to
hear it most. She's the music you'll listen to when you need to get pumped up about life—when
you need something motivational to get you going. She's hoping that others also realize that
they don't have to settle for the status quo, and by forging their own path ahead, they too can be "on top of the world."
She admits, though, that it is not an easy ride. It takes a hustler's mindset, attitude, and drive to get things done. Even Simon Cowell recognized that about her as he once told her, "You're a hustler. I like that."
A hustler she is indeed, and one that we know won't be stopping her hustle anytime soon.