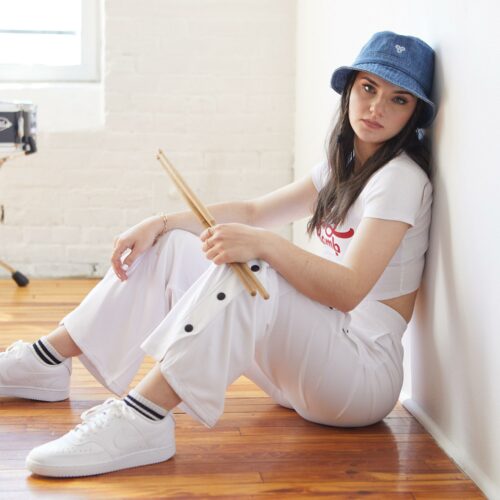 Montreal-based artist Jordyn Sugar drops the catchy pop track Stranger. In 2020 she was discovered after uploading video's on TikTok. Inspired by Shawn Mendes, Phil Collins and Michael Jackson, she debuted with "Leaves Me" in 2021.
Jordyn's hard work and dedication truly paid off when one of her mother's contacts saw a video of Jordyn singing on Instagram and before we knew it, we were on the phone with the former executive producer and talent manager of Celine Dion, Vito Luprano. This phone call led to a meeting in person in September of 2020 and despite their age difference, an instant bond was formed. Vito saw huge potential in Jordyn and knew with the right vocal coach, Nancy Martinez, she would be able to help correct her pitch and hone in on her raw talent. Jordyn personifies the image of the girl next door and this combined with her great stage presence, likability and mass appeal, is what drew Vito to work with her.
In May 2021, producer, writer Clifford Goilo from Amsterdam, wrote the song 'Leaves Me', which was written for Jordyn's voice. After recording 'Leaves Me', the whole team was confident this would be Jordyn's first single. 'Leaves Me', dropped on June 17th 2021 on all platforms.
After "Leaves Me" dropped, Vito started connecting more and more with his writers and producers, and he started receiving songs for Jordyn. Vito had Jordyn record different songs to get her used to being in the studio with Flavio Martincowski (sound engineer for likes of Backstreet Boys, Nsync). They did this process for 5 months so Jordyn could see what style would suit her best to help her with her writing skills and preferences. One of the people and styles of music that resonated the most with Jordyn was producer, song writer Clifford Goilo who as stated wrote 'Leaves me.'
Fast forward to November 2021, Clifford decided to take a 4-day visit to Montreal with his girlfriend and stay with Vito. Jordyn took the opportunity to invite them to her home for a visit to get more acquainted. After a wonderful lunch, many laughs and a jam session, Vito knew in his heart that Clifford and Jordyn could write an incredible song together. Clifford couldn't agree more and engaged his long time friend and collaborator Rasmus Viberg from Curaçao to help co-write the song with Jordyn. A few weeks later, "Summer High" was written, produced and mastered. Vito couldn't believe that her first co-write was a hit song and decided that Summer High would drop on all platforms/media sources on April.6th.2022.