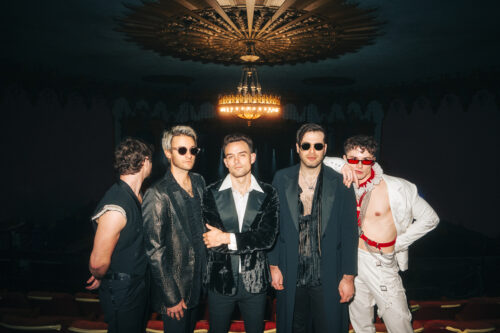 The Scarlet Opera released the single titled "Alive" via SB Projects/Republic Records which comes off the debut EP Comedy out March 24th.
The LA rock band describes the inspiration behind "Alive," saying "To know such intense heartache and pain, comes the ability to feel an equally visceral amount of joy and love – this is what we have come to understand about life – and we'd like to feel it all before we go."
The band will make an appearance on CBS's The Late Late Show with James Corden next Tuesday, February 28th.
The Scarlet Opera, blends the grandeur of theatre with the raw energy of rock and roll to transport listeners into a world of love, lust, glamour, and passion. Originally formed in 2016 as 'Perta' and re-emerging in 2022, the band is led by frontman Luka Bazulka, a skilled lyricist and vocalist, and supported by the musical talents of Colin Kenrick on keyboard, Daniel Zuker on bass, Justin Siegal on drums, and Chance Taylor on guitar. The band's inception can be traced back to a fortuitous night when Colin witnessed Luka's impressive solo vocal performance, leading him to recruit seasoned musicians Daniel, Chance, and Justin to add a new dimension to the group's potential. Their live performances quickly gained popularity, attracting the attention of SB Projects and Republic Records, who enlisted the expertise of hit songwriter and producer David Stewart [BTS, Jonas Brothers] to collaborate and further fuel the band's growth. Following the successful release of their debut single "The Place To Be," The Scarlet Opera has now released "Big City Thing".