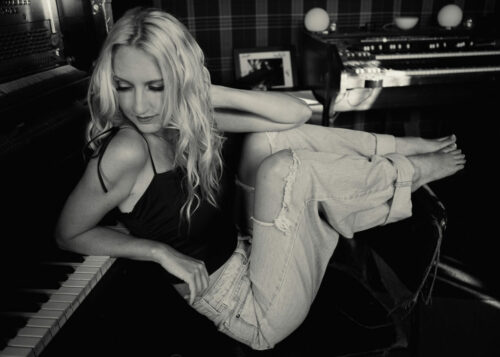 Nashville has long been known for its thriving music scene, and the city is home to some of the most talented musicians in the world. Among them is Tabitha Meeks, a pianist, singer, and songwriter who has been making waves in the city's music scene since moving here just two and a half years ago.
With an impressive resume that includes performances at the Ryman Auditorium and Bonnaroo Festival, as well as collaborations with artists such as Charles Kelley from Lady A, Lauren Alaina, Chris Young, David Ryan Harris, and more, Tabitha is quickly becoming one of Nashville's rising stars.
Her music is a unique blend of jazz, pop, and soul, with her vocal range and piano skills being a particular highlight. Her original music has been consistently played on Nashville's largest independent radio station, "Lightning 100," and her latest single, "Dark Side," is set to be featured in Episode 8 of Netflix's hit series "Love Is Blind."
"Dark Side" is a collaboration with LA producer Viv Parker, and the song explores the idea of embracing one's true self, despite having a dark side within. With the song set to premiere on Netflix on March 31st, Tabitha's music will be heard at a worldwide level of televised streaming for the first time.
In addition to her solo career, Tabitha can be found performing with the popular musicians' collective, "Pitch Meeting Band," and with her jazz pop trio, where she has a residency at Skull's Rainbow Room on Sunday mornings.
Tabitha's fans often tell her that her music belongs in TV, movies, and commercials, and with her music now being featured on a global platform like Netflix, it's clear that she is well on her way to achieving that dream.
As she continues to work on more original music to release later this year, one thing is certain – Tabitha Meeks is a talent that you definitely don't want to miss. So keep an ear out for her music.