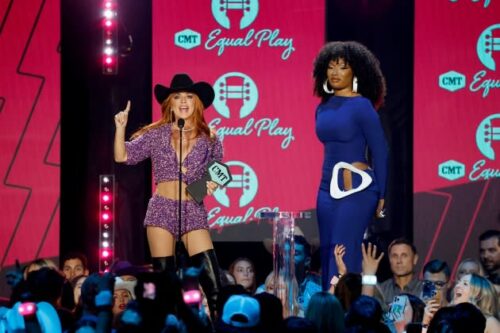 Megan Thee Stallion presented Shania Twain with an award at the CMT Music Awards, commending the country legend for being a vocal ally against all forms of hate and expressing her admiration for Shania as her newfound friend. Shania acknowledged the enduring popularity of her hit song "Man! I Feel Like a Woman" and how it has become a symbol of empowerment and progress for women in country music worldwide.
During her acceptance speech, Shania promised to continue advocating for country artists who are not receiving the recognition they deserve and called for an all-inclusive industry that provides equal opportunities for all talent regardless of gender, age, or race. She emphasized the importance of creating a level playing field for all artists to thrive and succeed.
The CMT Music Awards featured many notable performers, including Blake Shelton, Carrie Underwood, Gwen Stefani, and Tyler Hubbard, while Kelsea Ballerini and Kane Brown served as hosts. Lainey Wilson led the nominees with four nominations, with Brown, Jelly Roll, and Cody Johnson close behind with three each.