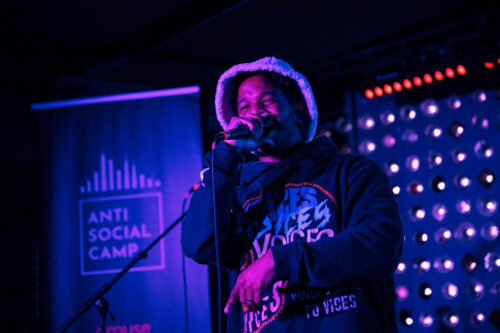 Anti Social Camp, the largest songwriting camp in the world, kicked off on Monday in New York City in spectacular fashion. At the Anti Social Camp Opening Ceremony Monday morning at The New School College of Performing Arts presented by Sound Royalties, special guests Moby, Andy Grammer, and Sam Harris of X Ambassadors spoke eloquently to inspire the hundreds of professional songwriters and artists in attendance. There was a live recording of the hit Vulture podcast Switched On Pop, where host Charlie Harding inquired about all things songwriting with special guests Nicholas Petricca of WALK THE MOON, Grace VanderWaal, Wolftyla and producer Alex Tumay.
And there was an historic conversation, Anti Social Women Running Music, with some of the most important women in the industry. The powerhouse panel included star artist Kimbra, smash songwriter Kara DioGuardi, Prince collaborator Susan Rogers, hip-hop star TT The Artist, country hitmaker Alex Kline, Joji songwriter Alexis Kesselman, Michelle Arkuski of She Is The Music and moderator Michelle Fantus of Spotify. They discussed the many inequities that female-identifying creators face in the music industry and in songwriting specifically, whether it's power imbalance or the fight for better pay.
On Monday evening, the camp headed to Brooklyn's Baby's All Right for the Industry Showcase supported by Spotify. Hundreds of fans lined up at capacity for the 20+ artists who headlined the stage including Two Feet, Kota the Friend, Zach Hood, Tenille Arts, Grace VanderWaal, Wolftyla, Lloyiso, Ant Saunders, Nicholas of WALK THE MOON, Emei, Chandler Leighton and Sofia D'Angelo of MICHELLE. Both events were hosted by hitmaker Will Wells.
"Anti Social Camp celebrates the age of collaboration in pop music," said Danny Ross, Founder of Anti Social Camp and BerkleeNYC professor. "We started as a group of music producers Zooming during the pandemic and transformed into a global movement with the aim of building community, creating hit records and reinvigorating the New York City music scene in a way that's inclusive and completely free. When New Yorkers — and songwriters — are united, we can do anything."
Anti Social Camp 2023 official partners showed their presence at both events, including Title Partner, Amuse; Presenting Partners The New York City Mayor's Office of Media + Entertainment, YouTube Music, SESAC and Cloud Microphones; and Contributing Sponsors Sound Royalties, The Orchard Publishing, Amazon Music, Oeksound, BMI, Spotify, Topo Chico, HIFI, Hipgnosis Songs Fund, ABKCO Music & Records and The Recording Academy New York Chapter.