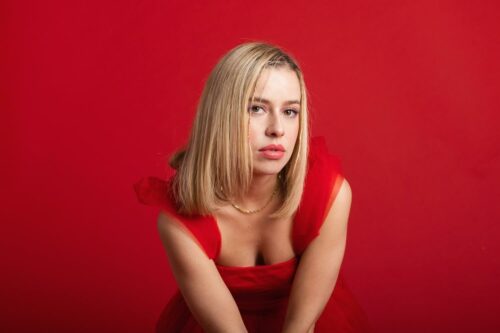 Alice Pisano, an Italian-born singer based in London, possesses a unique and captivating voice that sets her apart as a rising star in the city's pop music scene.
Her latest single, titled "Part-Time Girlfriend," is a bold and spirited pop anthem that addresses a guy's reluctance to commit. Collaborating with Dustin Dooley at Strongroom Studios in London, Alice showcases a rock-infused side of her music, evident in the track's crunchy guitars and gritty lyrics. Reminiscent of Avril Lavigne, the song exudes a punk presence, complemented by Alice's crisp vocals and contemporary pop production elements. With its confident and angsty energy, "Part-Time Girlfriend" is the perfect summer anthem.
When discussing the inspiration behind the track, Alice reveals that she wrote it after dating someone who was unwilling to fully commit. The song serves as a farewell to someone who led her to believe they wanted a relationship but backed out when things became serious. Writing the song proved to be a liberating experience for her.
"Part-Time Girlfriend" follows the release of Alice Pisano's EP, "Shattered but Still Cool," in February of this year. The EP received substantial support from Spotify's editorial team, with its singles being featured on prominent playlists such as Global Fresh Finds, 6 New Music Fridays, and New Pop UK. Additionally, the EP gained recognition from influential online publications like Clash, Earmilk, Wonderland, METAL, and Atwood Magazine. One of the EP's tracks, "Boys Like You," received regular airplay on BBC Radio Wales, and Alice was even interviewed live by H from Steps on his Friday Night show. "Ink" made its way onto the iTunes Pop Charts, and all of the EP's tracks were played on BBC Radio 1's Future Pop Show, marking a significant milestone in Alice's career.
Alice Pisano's talent and success have not gone unnoticed. She performed at two shows during The Great Escape Festival in 2022, and she was among the first 50 artists to be announced for the event. Her debut single, "Celebrate Life," achieved over four million streams on Spotify alone. Following this successful debut, Alice's subsequent singles were featured on 27 New Music Fridays and reached the iTunes Pop charts. Her single "September" gained over one million views on TikTok, while "Open Up" served as the lead soundtrack for the summer trailer of the popular British TV series Hollyoaks. It is evident that Alice Pisano is swiftly making her mark as one of the most exciting new artists in the pop music scene.