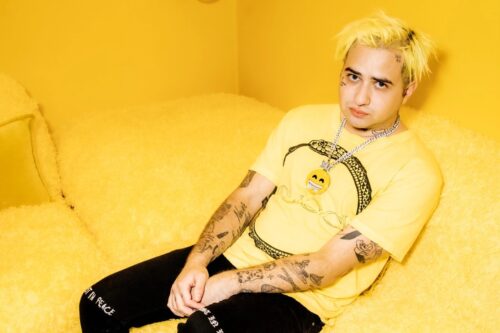 LA-based Artist SMILEZ Drops Genre-Bending Album 'Ur In My World', Blending Hip-Hop and Punk Rock with Unforgettable Results
With the release of his latest album 'Ur In My World', SMILEZ proves to be a game-changer in the music industry. Combining the raw energy of punk rock with the infectious beats of hip-hop, the album delivers a unique and fresh sound. The lead single "Someday," featuring a sample from The Strokes, instantly hooks listeners with its catchy melody that stays with you long after the song ends.
SMILEZ is making significant strides in his career, starting with a memorable performance on Genius' 'Open Mic.' His new single is already gaining momentum, landing a spot on MTV's 'Brand Spanking New' Playlist and earning recognition as a 'Feature Track' by Rolling Stone. His music bridges the gap between garage/punk rock, early '00s aesthetics, and modern hip-hop. Collaborating with legendary figures like Snoop Dogg while sharing stages with punk rock bands demonstrates his versatility. Notably, SMILEZ is a DIY artist who self-produces, engineers, and directs his own music videos, further showcasing his artistic prowess.
SMILEZ's success extends beyond his studio work. He has embarked on successful tours, opening for renowned artists such as Trippie Redd, Wiz Khalifa, and the late JuiceWRLD. In 2021, his single "HAPPY" skyrocketed to the top of the SoundCloud charts, accumulating over 7 million streams. Ending 2022 on a poignant note, SMILEZ released a deeply emotional track titled "Sit Back & Relax" as a tribute to his late brother, serving as a powerful message about the fentanyl epidemic.
Kicking off 2023 with a memorable performance on Genius' 'Open Mic,' SMILEZ is poised to make a significant impact. With his highly anticipated debut album, 'UR IN MY WORLD, SMILEZ is undeniably an artist to watch in the coming year.