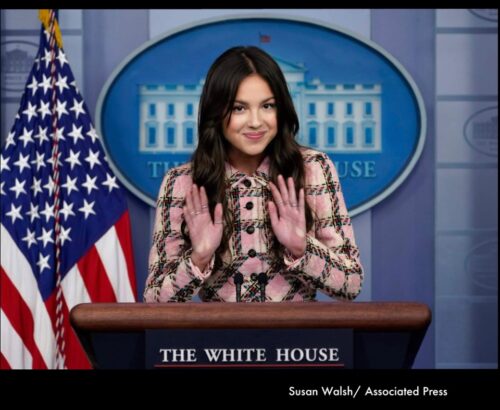 Olivia Rodrigo, The New York Times, and a Cultural Banana Republic
Shaping up to be a Taylor Swift protégé in more ways than one, 20-year-old pop star Olivia Rodrigo is giving the Ticketmaster servers a run for their money lately. Just days after announcing a 57-date world tour, she quickly expanded it to 75 shows, with an overage of demand that has created nothing short of a mania.
Rodrigo is fresh off the release of her sophomore album, GUTS. Unlike her debut, the similarly titled SOUR, which saw the then Disney graduate halted into full-blown pop stardom, GUTS has real momentum – largely because Rodrigo, and her sole collaborator, Daniel Nigro, are apt at taking note.
SOUR's energy peaked with its thrashing opener, "Brutal." While not perfect (talking about those programmed drums in particular), "Brutal" showed a punk rock side that most weren't expecting from the 18-year-old whose crowning jewel before SOUR was a musical extension of the Disney hit, High School Musical.
From there, the album slumped out. Barring its apex, "Deja Vu," and the sneaky indie pop deep cut "Jealousy, Jealousy," the rest of SOUR suffered from ballad-itis. None of the songs were bad in a vacuum, but as a whole, discounting the Paramore knockoff, the album lacked bravado and energy.
GUTS doesn't have this problem.
Wasting no time getting into the instantly classic "All-American Bitch," then headfirst into what is undoubtedly one of the most interesting rock tracks of the year in "Bad Idea Right?," Rodrigo and Nigro hashed out a definition quickly. GUTS, coincidentally enough, has more guts than its predecessor.
Throughout the rest of the album, the duo tours pretty seamlessly through several flavors of indie rock. Yeah Yeah Yeahs, Florence and the Machine, Best Coast, Katy Perry, The Ting Tings – it's all there. The comparisons can be endless.
It's hard to imagine the duo didn't cite Charli XCX's Sucker, or That Sky Ferreira Album while working on "Get Him Back!" "Love Is Embarrassing" would sound at home in any Florence era, or the female-fronted indie rock wave of 2017 that saw British bands like Anteros, The Big Moon, and Black Honey have well-deserved moments. "Ballad of a Homeschooled Girl" is a dead ringer for Portland, Maine's Weakened Friends, or LA's WRENN. "Pretty Isn't Pretty," which may end up being the record's long-term standout, is realistically Rodrigo's most mature effort yet, and reminiscent of acts like The Cure, Shura, or even Switchfoot.
These are rock records, done the right way, in 2023. Real drums and amped guitars – sure, dressed with a glossy veneer, but not moreso than several iconic pop rock albums of the 2000s or 2010s. In fact, they feel more organic, and properly sized than most of the tracks that dominate mainstream alternative radio and playlisting today.
GUTS' rock sensibilities are prevalent, and Rodrigo's PR team has been wise to capitalize on them. Press coverage of the album, including this article, has mostly fixated on its punky alt-rock demeanor.
A few weeks ago, just days before the album's release, The New York Times anointed Rodrigo a straight-up 'rock star.'
While she does stand out among many of her contemporaries because of this open-armed embrace of rock – good songs, loud guitars, big drums – Olivia Rodrigo is not a rock star. She is a pop star, who waltzed from Disney success into a major label deal. Maybe less obnoxiously so, she's still a part of the pop establishment just like any other artist of her kind.
Only two years ago, The Times lauded Rodrigo's participation in the White House's 2021 vaccine campaign. Yet in its latest profile, it breathlessly praises her as a subcultural stalwart who stumbles around Los Angeles in "a baggy white Morrissey T-shirt."
The column says Rodrigo's "openness about her influences," which include Gwen Stefani and Billy Joel, is "striking," suggesting it would be wiser for her to keep quiet on her artistic voice because of potential legal liabilities. The interviewer also asked the "rock star" if she made it out to the Taylor Swift Eras Tour, to which she said, "I haven't yet," citing how busy she'd been. "I'm going to Europe this week," Rodrigo added. (Her next tour date is in February).
Zooming out, a few things are very clear. Olivia Rodrigo is a fan of rock music, truly. In tandem with her producer Nigro, who captained the cult-favorite 00s indie rock band As Tall As Lions, she's also quite good at making it for a large audience.
Her loyalty to her producer is also of note. Rodrigo didn't let the pandemonium surrounding her debut toss her deeper into the Hollywood machine than she already is, proving she's a real artist.
But the distinction should be made between being a "rock star," and using rock as a flavor. GUTS' rock success as a pop album actually demonstrates the continued slow death of the rock star in the American mainstream.
Despite this fundamental distinction, today's youth, Rodrigo's true target demo, realistically can't see this. With massive marketing dollars, and the continuously diminishing integrity of most music journalists, there is little mainstream opposition left to even vocalize the difference.
Billy Joel, (an artist Rodrigo cites as an influence, and mentioned by name in her breakthrough hit, "Drivers License,") who put up $2.5 million of his own money to play shows in the Soviet Union in hopes of improving relationships between the Russian and American peoples, was a rock star.
Katy Perry, (an artist whose rock success within the pop space wasn't dissimilar to what Rodrigo is experiencing now) who left an overbearingly Christian home at 17 to live in LA until she finally got a record deal, and made her live debut on Vans Warped Tour, was a rock star.
Dominic Fike, (one of Rodrigo's contemporaries) who is currently riding one of 2023's biggest albums in Sunburn, and signed a record deal only because he needed money to bail his mother out of jail, is a rock star.
While it's undoubtedly exciting to see rock, as a musical genre, being flexed in this way and exposed to today's mainstream audience, especially the younger portion of it, the distinction between rock and "rock star" should be pointed out.
The rapturous proclamation of Olivia Rodrigo as a "rock star" demonstrates the deepening of American pop culture as a banana republic. Rock music, a once widely consumed medium that provided a viable path to mainstream influence for those from subcultures and the working class for decades, has largely been relegated to a flavor that pop stars try on.
Sure, GUTS is fun to listen to, but unfortunately, that's where it ends. Olivia Rodrigo is not a rock star, and to label her as one appropriates and dilutes a long-standing history of the attitude, ethics, and intangibles that distinguished the best to ever do it from what should just be referred to as a "pop star."