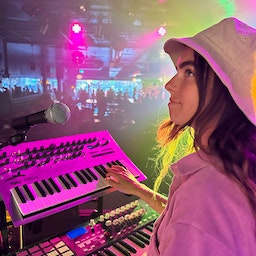 Be on the lookout for Josephine and her track "Sober," which delves into the highs and lows of life on tour.
Josephine sings, "I've been sober since October, but now I smell like cigarettes."
Fresh from her recent Pink Skies/Magic City Hippies tour, Josephine is currently in the studio preparing for her debut album in 2024, which is set to be released in the new year.
The alternative artist, multi-instrumentalist, and producer Josephine made waves in 2023 with her debut EPs: "Paradise" in January and "Lost?" in June. She draws inspiration from artists like James Blake, Father John Misty, Frank Ocean, Françoise Hardy, and the heartfelt lyricism of her mother, a folk songwriter from the 70s.
Several tracks on her EPs are helmed by collaborators Arieh Berl (from Pink Skies), a producer known for his work with artists such as 6LACK, Khalid, Neil Frances, The Knocks, and Saint JHN. Josephine also plays synthesizers and sings in the Pink Skies band, and she has been part of three US tours with acts like Kainalu, Magic City Hippies, and Tim Atlas.
Josephine's personal haven and music studio, named The Cove, is tucked away in Topanga Canyon. Serendipity led her there, and shortly after moving in, she discovered that her landlord had once collaborated with her mother during the 1970s folk movement in Los Angeles. A reunion that had been half a century in the making took place during Josephine's inaugural sold-out performance at the Shakespeare amphitheater, located just below The Cove, in January 2023.