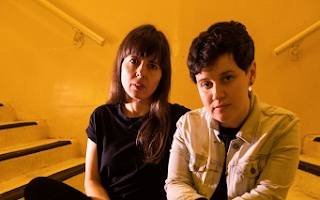 Catbear drops the infectious 'Higher.' It's a song that makes you feel like you're in space and finally waking up from a dream. The track could easily find a home on playlists like Indie Dream Wave Chill and "Chilled Indie Dreamscapes"
Zoe from Catbear, says "Higher is inspired by the era of telephone calls – before we could see each other on a screen, where our imaginations were able to get creative as we talk, and how looking back feels so nostalgic for that time. Our music is very much influenced by 80s styles and so it seems fitting we'd write a tribute song to the old-style telephone".
Catbear has more than 23,000 Spotify monthly listeners, their music has been played on radio stations worldwide, and they recently supported indie legends The Subways during their UK tour in January and February 2023. In July 2023, they reached 1 million streams on Spotify.
This year, they received funding from both The Arts Council England and Help Musicians, a rare achievement. In May, they were invited to perform at The Great Escape Festival in Brighton. They have fans across the globe, from Brazil to the US and all over Europe.