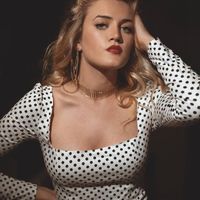 Drew Now just released the track "Dopamine." She blends the best moments from Tate McRae and Julia Michaels into one song. This track could easily snag a spot on Spotify's Pop Rising, Pop-Up, Pop Anthems, and Summer Hits playlists.
Drew Now aka Leah Mathies, grew up on a farm by Lake Huron in northern Ontario. Her songwriting journey started early, inspired by tunes from church and homemade CDs in her mom's car.
With recent hits like the uplifting pop track "TYPE" (October 2022), Drew Now brings some positivity in this wierd dark world. Surviving a lightning strike and impressing Simon Cowell on America's Got Talent Season 13, she's not just a musician but an all-around 'everything.
Her first EP, "Mesmerized," dropped in 2013 when she was just 16, produced in Nashville, TN.