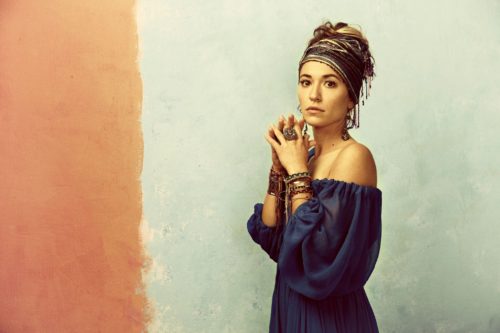 This biggest pop artist right now is Lauren Daigle. In fact, the Louisiana girl landed her first top 40 hit with You Say. She's unique because she was never backed by a big machine with big budgets for press, celebrity endorsements, advertisements, and other media companies. She built an audience through performing and releasing thought provoking songs that people connect too, influencing a new generation of females.
Upon the release of You Say, we posted an article 'Lauren Daigle Ready For Domination'. Now, she's more than ready. It's full takeover status. It just comes down to a few big market radio stations jumping on board. Why haven't they? The good new is Warner Bros. is promoting the song to pop formats, while Centricity continues to work it to Christian radio according to Billboard.
Here is why top 40 radio needs to embrace Lauren Daigle.
You Say has clocked over 115 million on-demand U.S. audio and video streams combined and sold 368,000 downloads to date.
Billboard Mag notes:
Adult pop programmers playing "You Say" find the song an easy fit.
"A segment of our audience is familiar with Lauren Daigle from Christian radio, but whether they know her or not, the song connected quickly," says Jill Roen, assistant program director and music director at Adult Pop Songs reporter KSTP Minneapolis.
KSTP program director Leighton Peck notes another angle seemingly contributing to the song's secular acceptance: similarities in vocal tone between Daigle and an artist that by now needs no introduction to pop audiences: Adele. Says Peck, "I think people from Christian radio know Lauren and love the song, and most of our listeners think it's an Adele song, until they realize it isn't through our on-air promotion."
"Sounding like Adele may have helped to speed up the process of our listeners getting to know and like the song, but beyond that, 'You Say' has lyrics and a sound that our audience likes a lot," Roen adds.
"From time to time, Christian songs hit consumption levels that force us to take notice," says KHMX Houston PD Chase Murphy. "We put 'You Say' into research to see if our audience was aware of it, since only the Christian station in town was playing it and we share very little audience. Research confirmed that this was a song we needed to embrace sooner rather than later."
"Programmers who are ignoring the song because 'it came from Christian radio' are being silly and short-sighted," muses KZZO Sacramento PD Chad Rufer. "'You Say' sounds great on the air. Quite simply, it has all of the signs of a hit."