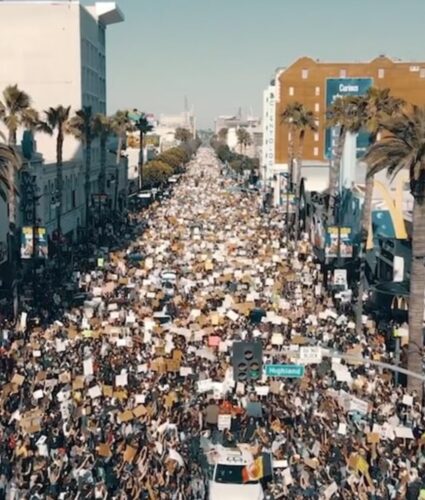 The world is divided in two categories. Mask On vs. Mask Off. Stay Inside vs Open Up. This is a fine example of Darwin's 'survival of the fittest' – the preservation of the human race in the struggle for life.
With that, the world's first "herd immunity festival" is taking place next month in July – a 3 day festival in Wisconsin. But you know what? It's a rock festival. Performing are Static-X, Nonpoint, Dope, Bobaflex, and Royal Bliss. Those acts don't care about status quo because rock isn't on the forefront of popular culture. Rock still has die hard fans though and fans will show up. Those acts don't have handlers asking them to post memes and jumping on a weekly bandwagon. If they receive backlash, they don't care.
The event makes no mention of social distancing measures which means people won't socially distance. This may be a good ice breaker for future music festivals. Also, when tens of thousands of protestors gathered in West Hollywood it didn't create a spike in new Cov19 cases. The organizers definitely looked at the data.
Newsweek: 'No Evidence' Black Lives Matter Protests Caused COVID-19 Spike: Study
C'mon, Herd Immunity Festival? That's clever marketing. You are inviting people to contract the virus.
The "herd immunity" theory allows the virus to spread through the population quickly. That's Sweden's approach – no lockdown measures, no social distancing – let's all get this and get this thing over with.
Who knows? Maybe it will be rock that kills the virus.
As AC/DC pointed out…
Rock 'n' roll ain't noise pollution
Rock 'n' roll ain't gonna die
Rock 'n' roll ain't noise pollution
Rock 'n' roll it will survive (yes it will)