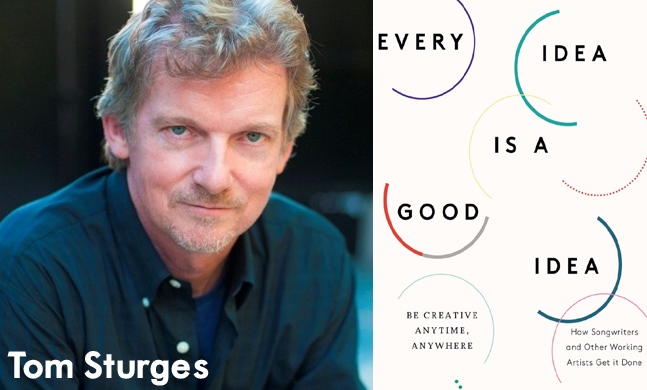 Renowned music industry executive Tom Sturges literally wrote the book on creativity. In his most recent work, Every Idea Is A Good Idea, he explores the two primary types of creativity- individual and collaborative. While the book is a must-read no matter what you do, filled with excellent advice and exercises to help anyone find their creative center and learn to access it more efficiently, many of us work with artists every day in a non-creative capacity. We followed up with him to find out a little more about how to have a successful relationship with truly creative people, and see what creative turns he has taken to end up where he is today.
In the book Every Idea Is A Good Idea you talk about how deeply personal the creative process is, and how it shouldn't really be discussed. When you said that a one-hit wonder will go on and on about how a song just came to them, I laughed out loud. We all know those guys. Can you give me a few questions one can ask to get a good read on whether or not a new artist is really tuned in to their creative center? Or is producing material the only way to really know?
True artistry is very genuine, and very truthful in its presentation. And you know the truth when you see, and more importantly, hear it. In a strange way, it's almost as if the performer doesn't really care if anyone is listening or not, as if he or she is so in tune with their own music and art that the presence of a witness is insignificant. Picasso could not tell you how he painted, but he could tell you how empty his life would be without his art.
So the questions to ask a new artist would relate to their inspirations, their artistry, their big dream, their favorite song that has ever been written (not their own, I hope), what they were like in high school, and that kind of thing. Come at them from the perspective of complete respect and see how they respond.
You have worked with a lot of very extremely creative people and in your book you share one particular story about an encounter you had early in your career with Carole King. You have picked up a lot of wisdom about creativity itself, but what can you share regarding what you've learned about working with creative people, from the business end of things?
Between an artist and the record, there are several intermediaries, including the producer, engineer, mastering engineer, mixer, a&r, etc. Between the songwriter and the song there is no one. When working with artists, the music is almost like a third person in the room, probably because it required so many others to successfully create it. When working with the writer and talking about the song, you might as well be talking about a family member.
The bottom line is that one must be completely respectful of a creator's art, and allow plenty of room for ego and dreams to co-exist with the vocal, instrumentation, the lyrics and melodies. But, before sharing an opinion with someone about their work, find out if it's the FINAL version, i.e., cannot be changed no matter what versus a DRAFT, i.e., still a work in progress. If it's the latter, feel free to say whatever you like. But if it's the former, pay a compliment relative to your view of the work and say no more.
What do you think it takes to have a successful working relationship with an extremely creative person when you're not really a collaborator?
If you are working with someone and you are not a collaborator, you need to pick the role you intend to play. Possibly you are the sounding board (listen to all ideas and offer comments and suggestions), the enabler/facilitator (organizer of studio time and finder of musicians, but with no "creative" role to play), or the fan (who loves everything, no matter what). The thing I find most creators need most is believers. So if you cannot be any of the three above, just believe. CONTINUE READING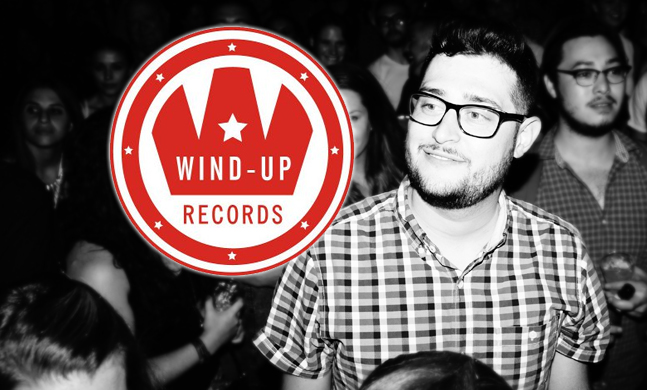 Wind-up Records has long been known as the house that Creed built. Although they are an independent label, they've been home to many chart toppers in the Active Rock and Alternative genres. Over the last few years, Wind-up has been branching out, picking up artists that seem out of place on a roster that once included Drowning Pool and Evanescence. Kings of A&R caught up with Wind-Up A&R director, Shawn Cohen, to find out more about their new eclectic roster that includes bands such as The Griswolds and SPEAK and how they are transitioning into new genres.
Wind-up has been picking up some surprising new bands. Where is all that coming from?
We have been known as the house of active rock for a very long time and we're trying to be creative and showing the world that we can do mainstream, alternative, pop…we're not just rock. We want to work with music that we love, no matter the genre.
What's your favorite artist that you're working right now?
Hands down, The Griswolds. Not just because I signed them, but they are just from fans to music the most intriguing, fun, exciting people and it shows all around. Their social media, their recorded music, their live shows, they are a very dynamic band.
How'd you find them?
I found The Griswolds in the blog scene. They had posted their first song , Heart of the Lion. It was under the radar when I heard the song and I was really into them. I did some homework and saw they were doing well on Triple J (Australian Radio). I listened to their other songs and I thought it was very creative and refreshing so I reached out to them. CONTINUE READING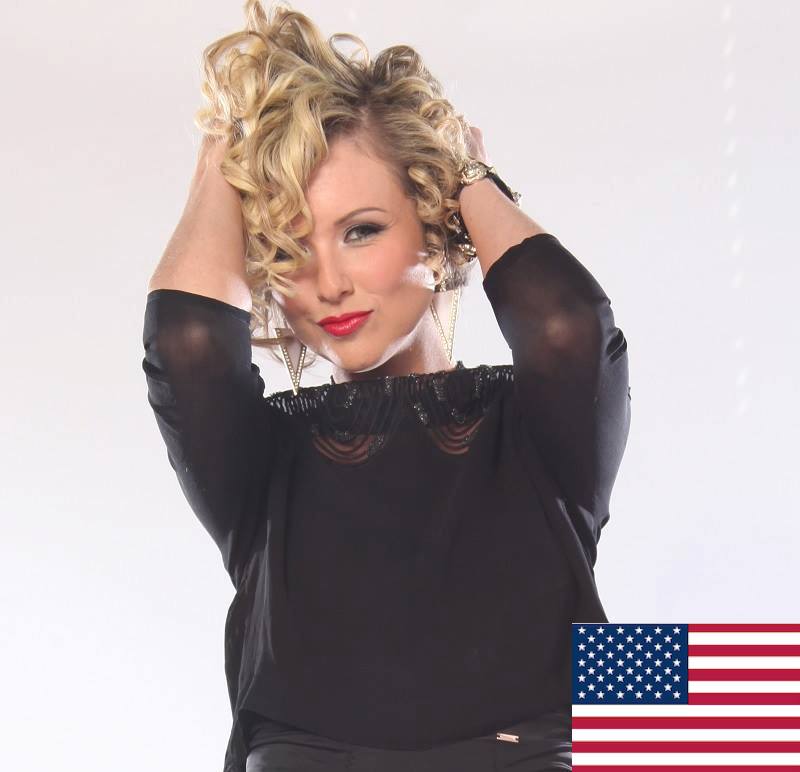 When did you consider having a career in music?
I have considered having a career in music for as long as I can remember. From a very young age, I felt like this was what I was created to do. For most of my life it just seem too far out of reach. So, two years ago I decided to take the first step in actively pursuing the career I had always dreamt of obtaining….. and here I am!
What were some of the steps that you took to help shape the craft of singing, performing, and songwriting?
I never had vocal lessons growing up, so the first step was working with a vocal coach to reverse bad habits I had developed, and improving those that came naturally. I've been working with a choreographer to develop a great show/performance. Singing is one thing and dancing is another, both challenging in their own way, but doing both at the same time while engaging your audience and connecting to your lyrics is a completely different beast. It takes a lot of hard work and dedication.
Additionally, I have been working in the studio with award winning writers, producers and vocalists. There is no better way to grow and develop as an artist than by learning from and collaborating with some of the best in the business! They push me.
I am also teaching myself acoustic guitar to help with songwriting, putting together a great show with my band, and finishing touches on new music to be released at the top of next year! With each new project, there are new challenges and significant growth as person and artist.
Do you see yourself acting in the future?
I absolutely do! Acting is the element of entertainment in which I have the least experience, but I believe there is a natural ability within me that just hasn't had the opportunity to be exposed yet. I'd love to do a comedy! CONTINUE READING
He was an aspiring golf pro turned law student who went on to manage one of the most successful names in modern rock. Today he is inviting the entirety of the music industry into his office for some lively, and often deep, conversation. Through his web series, Renman Live, and his coursework at Renman U, Steve Rennie is preaching the truth of the music business and trying to share all he has learned with the next generation of managers and industry professionals.
We caught up with Steve Rennie to find out what a good education really is when it comes to the music business and what people really need to know to make it.
What do you think has been the biggest pivotal moment in the industry just since you got started 36 years ago?
Definitely, without question, the advent of the internet. That changed so many things about the way we do business. It didn't change the core of what the music business is. It's actually much simpler than people want to make it. It's about great songs and great performances. Without that, there is no music business. The internet hasn't changed that. How you make the songs, distribute, promote, listen, buy, experience has changed dramatically and in that change you see all the worst instincts of the music business- fear, insecurity, politics…all of that playing. And that's what contributed to the general anxiety of the music business. It was always there, but has been heightened by the internet. It's hard to believe things could be crazier.
Do you think it's harder or easier for artists to get noticed these days?
Before the internet, artists had to find a way to get the attention of the label guys. Bands started playing the Troubadour or the Whiskey and little scenes developed. The only way for business types to plug into that scene was to go to clubs. Or artists would go to lawyers or managers and try to get insider status. That's where the action happens. They were face to face connections, eyeball to eyeball. Now with the internet, artists have new ways to make money and new ways to present themselves to the industry in a much more complete way. They have photos and videos and websites and can make a more complete presentation. They have more control over that first impression. CONTINUE READING
Round Hill Music is relatively new on the publishing scene, but they have certainly hit the ground running. Recently named one of the Top 10 Publishers in Billboard (Q2, 2014), RHM is building up an impressive catalog of classic songs from the likes of the Beatles and the Rolling Stones, but also breaking new artists by saturating our collective consciousness with infectious hits from Bruno Mars, American Authors, Katy Perry and many more. A small, boutique company offering a wide variety of services, Round Hill continues to grow by the day, through acquisitions and their own creative efforts. We spoke with Mallory Zumbach, Sr Director of Creative at Round Hill Music to learn more about how they do things and gain a bit of insight into their success.
Round Hill Music only started in 2010, but boasts a very impressive catalog and has a number of current associations that have made the company a leader in the field in a very short time. What is Round Hill doing differently that has allowed for such phenomenal growth?
Our overall focus at Round Hill isn't market share—we don't want to create some gigantic, unwieldy catalogue wherein we can't even keep track of who all our writers are, let alone what songs they've written. We want to build a catalogue filled with great music that we're passionate about, and that we know we can add value to. That focus on quality over quantity is certainly a part of our success thus far.
What is your process for determining what you will sign?
I think that we know how to take advantage of the great team of people we have here. When we're looking at a catalogue or thinking about signing a new writer or artist, the whole team gets looped in to the process. That gives us the space to honestly discuss what all we think we can do with the music we're considering before we actually sign or acquire it. Do we think the songs have a lot of synch licensing potential? Can we breathe new life into back-catalogue songs by having up-and-coming artists cover them? Do we see potential to take a writer and set them up on fruitful co-writes? We try to make sure that the majority of the team is on board and thinks they can really work with the music, which I think is important to both our success as a company and the potential success (or further success) of any writers we sign or songs we acquire.
Surely not every task in the daily process at Round Hill is directly related to the creative aspects of music. There's a lot of boring paperwork in copyright and licensing! But nearly every staff member is college educated, not to mention a fully qualified musician in their own right. Which plays a bigger role in the culture of Round Hill- the college degrees or the musical backgrounds?
This feels a little bit like a chicken-or-egg scenario to me—most of us went to school specifically for music-related fields, like performance or music business, but we wouldn't have pursued that sort of education in the first place if we weren't musical people. I think that the fact that we're a bunch of musicians is a huge part of our company culture, and our writers and artists certainly appreciate that we can geek out on things like recording gear and music theory with them. They know we're all in this business because music is part of our lifeblood. Our college educations helped us dive even deeper into that music geek-dom, and they also helped a lot of us figure out how to make a career out of our love for music. With all of that in mind, I think that the importance of our musical backgrounds and our degrees are two very interrelated defining aspects of our company culture.
Publishing is really the primary way that artists make careers for themselves these days. An artist can generate a lot of heat with a few good commercial or film placements. Round Hill Music gets involved with music in a few different ways, including finding those placements, so you probably have unique perspective here- all things being equal, what makes one song more likely than another to get picked up?
The bulk of my day-to-day job here is focused on pitching our songs for synch uses, so this is definitely something I think about all of the time. There are so many different factors that go into any given song's success in the synch world, many of which are outside the control of the songwriters/artists. However, I do feel like there are certain traits that serve as a common thread through a lot of the songs that you hear getting licensed over and over. An upbeat, feel-good, anthemic song is going to work for a lot more uses, for starters, especially when it comes to things like advertisements and promos. I think it's also important to have a great chorus with memorable lyrics that touch on universal themes like feeling joyful, togetherness, platonic love and friendship, determination, celebrating, and so on. The lyrics shouldn't be too nebulous, either—the listener should be able to get the basic message of the song without having to listen to it over and over. That doesn't mean they can't be artfully written—just that they need to be clear. The vocals should be clear, too, for that matter! It makes no difference how great the lyrics are if the vocals are so mumbled or hidden under the instrumentation that the listener can't make them out. I also think that the mood and feel of the song have to match the lyrical content. Synch searches for songs that sound really happy but have sad lyrics (or vice-versa) are pretty few and far between. Finally, the writer/artist needs to keep all of the aforementioned qualities in mind, but still write a great song that showcases their unique sound.
It seems like there is definitely a formula for a perfect song.
Music supervisors can totally tell when someone is trying too hard to create The Perfect Song for synch, and they usually steer clear of using something that obvious and contrived sounding. They want to work with music that's authentic—who wouldn't?
Who do you want to work with?
I think at the end of the day, having a catalogue from an insanely talented artist is always incredible, but it's extra special when that artist is hungry to work. The writers and artists who get genuinely excited about their music and are open-minded about things (like licensing their songs or getting involved in interesting collaborations with other writers) are the best to work with, whether they're established hit-makers or just starting out.
What are your more immediate goals for Round Hill Music?
We just closed on our first fund this summer, so I think we're all excited to put that capital to work as we continue to build our artist/writer roster and catalogue.
What about long-term?
Total world domination? Honestly, I think we all just want to grow RHM in the smartest way possible, and never lose sight of the fact that the music comes first. We want to be the kind of publisher that our writers are truly excited to be working with— they should be having their best publishing experience with us, to the point where they're trying to convince all of their songwriter friends to sign with us, too.
http://roundhillmusic.com/